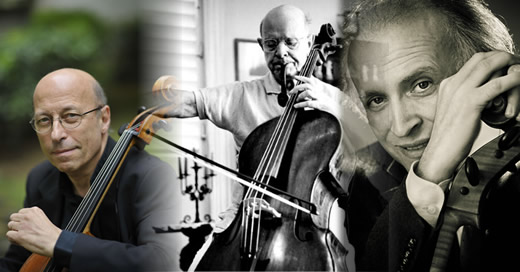 The Best of Cello Scores 2012
With the arrival of the new year, we wanted to leave you all with a look at some of the most popular cello scores of 2012. If you missed hearing about these somewhere along the way, now's your chance to revisit them!
Bach Six Cello Suites (edited by Pablo Casals)
No list of top cello scores would be complete without a mention of the legendary Spanish Catalan cellist and conductor Pablo Casals. Casals is typically regarded as the preeminent cellist of the first half of the 20th century and arguably of all time. One of the most prominent aspects of his enduring legacy are the recordings of the Bach Cello Suites he made from 1936 to 1939. Ovation Press helps carry that legacy on with Casals' edition of the Bach Suites in sheet music form complete with his own editorial markings! As the cellist himself once said: "Bach is forever – and nobody, nobody will reach the greatness and the profoundness and the diversity of Bach." These masterpieces, along with the spirit of Casals, live on in our catalog.
Visit Pablo Casals' profile page to purchase the six Bach Cello Suites today!
Tchaikovsky Suite from Album for the Young(transcribed and edited by Valter Dešpalj)
This past year, cellist and editor Valter Dešpalj brought us many fantastic scores to the instrumental medium that is the cello ensemble. Tchaikovsky's Suite from Album for the Young, Op. 39 has been one of the more popular gems in our growing body of literature for multiple celli. Instead of a literal translation from the original piano versions, Dešpalj sought to adapt these pieces to the specific colors, possibilities, and sonorities of a cello quartet. As is common in Dešpalj's arrangements, the first cello part is the most demanding, and the others provide a relatively easy-to-play accompaniment.
Purchase Tchaikovsky's Suite from Album for the Young today!
Visit Valter Dešpalj's editor profile
Rachmaninoff Vocalise (transcribed and edited by Roland Pidoux)
Roland Pidoux was introduced to Ovation Press fans in 2012 through an exclusive interview on our blog String Visions in which Mr. Pidoux shared his experiences as a professional musician and thoughts on works he has published. Vocalise is a popular vocal work by Sergei Rachmaninoff, published in 1912 as the last of his Fourteen Songs, Op. 34. It is so popular that a number of different instrumental arrangements have been done, including our very own cello octet version!
I was very enthusiastic about, for instance, the Rachmaninoff Vocalise, which is the first score published by Ovation Press, because it's a piece that is already very beautiful when you play it with piano. I find that with eight cellos— well what I'm about to say is a bit pretentious, so I say it very objectively— I find that sometimes playing together with several cellos is somehow transcendent. It's incredible because you find yourself in a unified sound world. This is what really appealed to me for the Vocalise.
--Roland Pidoux
Purchase Rachmaninoff's Vocalise today!