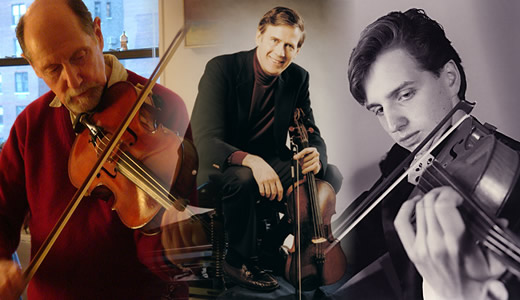 The Best of Viola Scores 2012
With the arrival of the new year, we wanted to leave you all with a look at some of the most popular viola scores of 2012. If you missed hearing about these somewhere along the way, now's your chance to revisit them!
Schumann Fünf Stücke im Volkston (transcribed and edited by Michael Tree)
Michael Tree joined us last year by shining a light into Robert Schumann's more obscure compositional period. Fünf Stücke im Volkston (Five Pieces in Popular Style) is a rarity among Schumann's more famous and established compositions. Originally written for cello, Mr. Tree brought an outstanding arrangement of this hidden jewel to viola and piano. It consists of five short pieces in the form of songs without words. While the first is believed by some to have been inspired by Goethe's poem "Vanitas! Vanitatum Vanitas!" the others are distinguished only by tempo markings. Mr. Tree once remarked on his hope that "this unique, seldom heard work will earn a permanent place in the viola repertoire." The five pieces are as follows:
Vanitas vanitatum: Mit Humor (Vanity of Vanities: With Humor)
Langsam (Slow)
Nicht schnell, mit viel Ton zu spielen (Not quick, to be played with much feeling)
Nicht zu rasch (Not too quickly)
Stark und markirt (Strong and emphatic)
Purchase Schumann's Fünf Stücke im Volkston today!
Visit Michael Tree's editor profile
Strauss Don Quixote (edited by Yizhak Schotten)
The legendary Yizhak Schotten, named by Strad Magazine as "one of America's finest viola players... a leading light of the U.S. viola establishment," has brought some truly remarkable editions of orchestral parts for viola to our catalog including Richard Strauss'Don Quixote, Op. 35. As the former principal violist of the Cincinnati and Houston Symphony Orchestras, Schotten's bowings, fingerings and other editorial markings are valuable learning tools for any violist teaching or learning orchestral repertoire.
Purchase Strauss' Don Quixote viola part today!
Visit Yizhak Schotten's editor profile
Sarasate Caprice Basque (transcribed and edited by Viacheslav Dinerchtein)
Mr. Dinerchtein is, as Wikipedia describes, an "avid promoter of both novel and overlooked viola repertoire." He lives out that philosophy in his work, including his decision to transcribe Sarasate's Caprice Basque for viola. His breathtaking rendition represents the unrestrained attitude that the viola can musically conceive of the violin's possibilities and perspectives, and the score's release has excited performers and listeners alike. Dinerchtein himself has commented that: "this arrangement will best suit an advanced player, prepared to set aside all prejudices of what can or cannot be played on the viola."
Purchase Sarasate's Caprice Basque today!