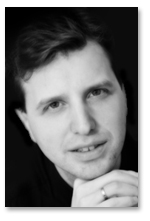 Viacheslav Dinerchtein
Born in Minsk, violist Viacheslav Dinerchtein emigrated to Mexico in 1991. He has appeared as a soloist with orchestra, in recitals and chamber music concerts throughout North & South America and Europe, including venues and festivals such as the Kennedy Center, Carnegie Hall, Palacio de Bellas Artes, Sociedad Filarmónica de Lima, Niagara Music Festival (Canada), Spoleto Music Festival (Italy), Festival Camarissima (Mexico), International Viola Congresses, among numerous others. He acted as a soloist of the U.S. State Department. Has been featured in TV & radio broadcasts. Premiered William Primrose's viola transcription of Bartok's 44 Duets for Two Violins with Prof. Roland Vamos. Dinerchtein is a dedicatee of several compositions for viola, some of them winners of important competitions for composers. Since 2009, records for the Quindecim Recordings. In 2011, he was appointed President of the Swiss Viola Society.
Studied with his father, Boris Dinerchtein, Joseph de Pasquale (MM, Peabody Conservatory) and Roland Vamos (DMA & teaching assistant, Northwestern University; diss. on Shostakovich's Viola Sonata). In his free time enjoys reading, chess, photography, and card magic; member of the Mensa Switzerland. Resides in Zürich with his wife and son.
Read more:
www.vdin.ch
Below you will find the complete list of scores edited by Viacheslav Dinerchtein.
| | | | | | |
| --- | --- | --- | --- | --- | --- |
| Composer | Title | Instrument | Editor | Instrumentation | Price |
| Popper, David | Spinning Song | Viola | Dinerchtein, Viacheslav | Solo with Piano | $ 7.99 |
| Sarasate, Pablo de | Caprice Basque | Viola | Dinerchtein, Viacheslav | Solo with Piano | $ 10.99 |