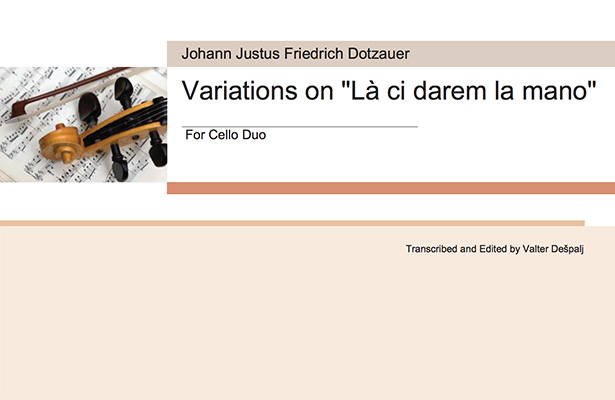 Dotzauer's Variations on "Là ci darem la mano" for Cello Duo
Based off of the duet from Mozart's 1787 opera Don Giovanni, Dotzauer's arrangement and variations have been expertly edited by Valter Dešpalj for two celli. In the opera, the duet is sung during the first act as the titular character attempts to seduce Zerlina to accompany him to his castle.
Find a fellow cellist and download the score today!
About the Editor – Valter Dešpalj
Valter Dešpalj is professor of cello at music academies in Zagreb and Liechtenstein. A graduate from the Juilliard School (where he studied cello under Leonard Rose and chamber music with Felix Galimir and the Juilliard Quartet), he also took master classes with P. Casals, P. Fournier and A. Navarra, and did two years of postgraduate study with G. Kozolupova at the Moscow Conservatory.
Mr. Dešpalj has performed all over the world, including performances at festivals in Gstaad, Lockenhaus, Kuhmo and Dubrovnik, also in some of the most prestigious concert halls, such as Carnegie Hall, Royal Festival Hall in London, Sydney Opera House, Amsterdam′s Concertgebouw, Moscow Conservatory Hall etc. Besides teaching in Zagreb and Liechtenstein, he has also been a guest professor at the conservatories in The Hague, Amsterdam, Copenhagen and Graz (University of Music), editor of cello music with major music publishers, and member of judging panels at the most prestigious international competitions including Tchaikovsky (Moscow), Bach (Leipzig), Lutoslawski (Warsaw) and ARD (Munich) competitions.
Learn more about Valter Dešpalj and his arrangements at Ovation Press. You can also read an interview with Dešpalj on our blog Ovation Press String Visions.