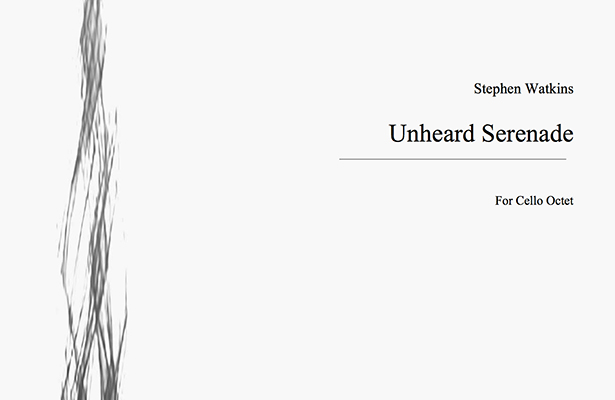 Hear the Unheard Serenade by Stephen Watkins
Editor Stephen Watkins has contributed some remarkable arrangements to Ovation Press across a wide range of musical styles that include works by Bach, Beethoven, Debussy, and Sousa, as well as folk music such as the Christmas carol Fantasy on I Saw Three Ships.
Now, the multi-talented Watkins delivers his first original composition in our catalog with Unheard Serenade for cello octet.
About Watkins' Unheard Serenade for Cello Octet
Inspired by the second verse of the poem "Let Me Enjoy" by Thomas Hardy, this wordless serenade is one which Hardy might have sung himself to an unknown lady. The composition is based on a ground bass, in the style of Purcell. Watkins wrote this for an ensemble of eight celli with mixed technical ability, making it a great choice to bring beginner-intermediate cellists together with more experienced performers.
The words of the verse from Hardy's poem:
About my path there flits a Fair,
Who throws me not a word or sign;
I'll charm me with her ignoring air,
And laud the lips not meant for mine.

About the Editor – Stephen Watkins
Stephen Watkins was born in 1954. He attended the Guidhall School of Music in London majoring in trombone and piano. His main interest however while at the Guildhall was really composition and benefited from the tuition of very diverse composition professors. On leaving college Stephen took up employment as a classroom music teacher in the United Kingdom and then later, after a brief spell in Iceland, specialized in instrumental teaching.
For the last 20 years he has worked in a music school in Germany where he is currently the principal. In his mid-forties, a medical crisis prevented Stephen from continuing as a professional trombonist, and he converted to the cello as his primary instrument. Stephen's works and arrangements are published by publishing houses in the US, Holland, Austria and Germany and include pieces for brass, recorders, and strings.
Learn more about Stephen Watkins and his arrangements at Ovation Press.