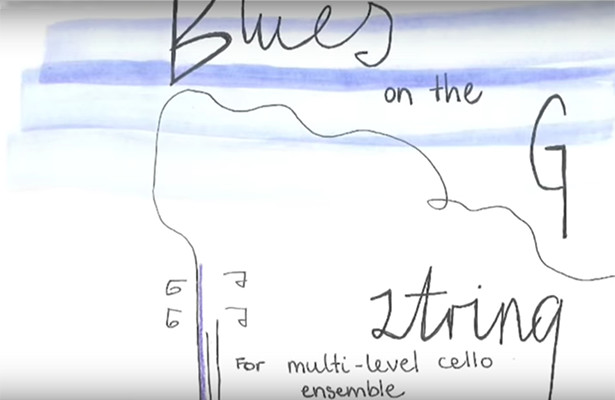 Hear and Play the Blues with up to Twenty Celli!
Following our last release by Kars Sebastian Keen comes another new and exciting editor joining the ranks alongside Ovation Press veterans: Steven Griffin. A Welsh composer and teacher whose music has been described as "alluring contemporary sounds" and "quite superb," Mr. Griffin's first published work with us is Blues on the G String, written for a "multi-level" cello ensemble that can support anywhere from five to twenty cellists!
About Griffin's Blues on the G String for 5-20 Celli
Blues on the G String is written for five parts that can be played as a quintet or as a larger group with multiple cellists on each or all parts. If you've never had the opportunity to play with four cello quintets at once, now's your chance!
This composition is aimed at a group with varying ability and experience, allowing younger and beginning students to play with more advanced cellists. Ideally there should be at least two players (preferably four) on each part to allow for divisi playing.
About the Editor – Steven Griffin
Steven Griffin is a Welsh composer and teacher who lives and works in Edinburgh, Scotland. He studied Music at Magdalen College, Oxford where he was awarded an Academical Clerkship, the Magdalen equivalent of a choral scholarship. In addition to his focus on education, Mr. Griffin has significant accomplishments as a composer, with a body of works spanning a wide variety of choral, chamber and orchestral pieces. His recent instrumental works have been for multi-level ensembles allowing beginners to perform with more experienced performers.
In 2012, Steven was the winner of the inaugural Carol for Christmas Competition organized by renowned vocal ensemble The King's Singers and Classic FM. His winning entry, A Hymn to the Virgin, was first performed by The King's Singers and subsequently published by Novello. Following this success, Steven's compositions and arrangements have been programmed throughout the world with recent performances in Italy, Japan, New Zealand and the USA.
Learn more about Steven Griffin and his arrangements at Ovation Press.