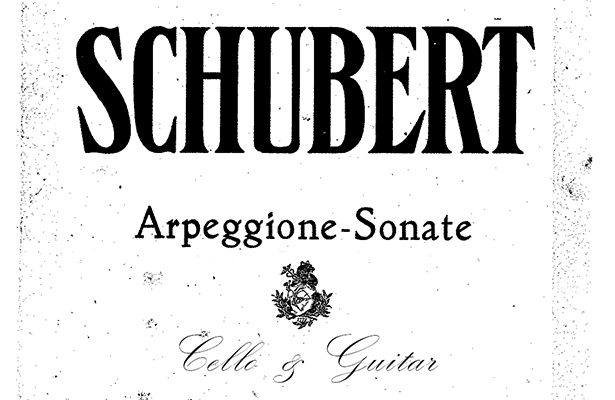 Dešpalj arranges Schubert's Arpeggione Sonata in A minor
The latest arrangement from cellist and professor Valter Dešpalj pays tribute to a unique but long extinct instrument: the arpeggione. The arpeggione was a six-stringed musical instrument, bowed like a cello but fretted and tuned like a guitar. It enjoyed roughly a decade lifespan before falling into obscurity. The only notable piece for this instrument is a sonata by Franz Schubert, named after the instrument itself and with piano accompaniment.
Dešpalj brings us a new take on this work with an arrangement for cello and guitar!
About Schubert's Arpeggione Sonata for Cello and Guitar
Composed in 1824 while Schubert was in Vienna, today, the piece is almost exclusively heard as transcriptions for cello & piano or viola & piano, arranged after the work's posthumous publication.
"It is not uncommon these days to hear a cello and guitar duo, but forty years ago it was quite rare... Hearing a subtle and delicate guitar accompaniment, which emphasized the intimate character of the music, inspired me to explore more refined nuances on my cello, nuances that could better match the sound of guitar and ensure a good balance between the two instruments."

--Valter Dešpalj
About the Editor – Valter Dešpalj
Valter Dešpalj is professor of cello at music academies in Zagreb and Liechtenstein. A graduate from the Juilliard School (where he studied cello under Leonard Rose and chamber music with Felix Galimir and the Juilliard Quartet), he also took master classes with P. Casals, P. Fournier and A. Navarra, and did two years of postgraduate study with G. Kozolupova at the Moscow Conservatory.
Mr. Dešpalj has performed all over the world, including performances at festivals in Gstaad, Lockenhaus, Kuhmo and Dubrovnik, also in some of the most prestigious concert halls, such as Carnegie Hall, Royal Festival Hall in London, Sydney Opera House, Amsterdam′s Concertgebouw, Moscow Conservatory Hall etc. Besides teaching in Zagreb and Liechtenstein, he has also been a guest professor at the conservatories in The Hague, Amsterdam, Copenhagen and Graz (University of Music), editor of cello music with major music publishers, and member of judging panels at the most prestigious international competitions including Tchaikovsky (Moscow), Bach (Leipzig), Lutoslawski (Warsaw) and ARD (Munich) competitions.
Learn more about Valter Dešpalj and his arrangements at Ovation Press. You can also read an interview with Dešpalj on our blog Ovation Press String Visions.