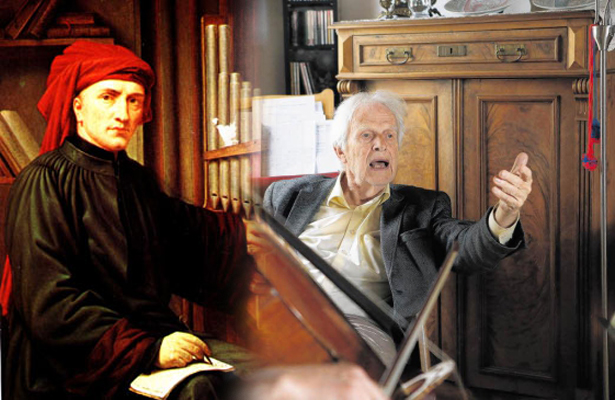 Deckert arranges the Master of Polyphony: Josquin des Prez
Josquin – the famous Franco-Flemish composer of the Renaissance – is widely regarded as the first master of polyphonic vocal music that characterized his era. With his mastery of technique and expression, he gradually became known as the greatest composer of the age, universally imitated and admired.
About Josquin's Benedicta es, caelorum regina for Cello Sextet
Benedicta es, caelorum regina is one of seven motets by Josquin printed in the anthology Liber selectarum cantionum. It incorporates plainchant melody. Originally written for six voices, Hans Erik Deckert has arranged each voice for a cello part.
It is recommended to duplicate the main voices and place the ensemble in two groups (1st—3rd and 4th—6th cello) facing each other. It is crucial to create a very transparent timbre and a dynamic that follows the energy and movements of the individual voices.

--Hans Erik Deckert
Download and print the score today to gain access to this expertly edited arrangement of Josquin's Benedicta es, caelorum regina for cello sextet by Hans Erik Deckert!
About the Editor – Hans Erik Deckert
Hans Erik Deckert was born and grew up in Germany. The son of German and Danish parents, he moved to Denmark shortly after the war in order to study cello and conducting in Copenhagen. Deckert has had a passionate and prolific career in these fields, as well as in chamber music. His roots in the German musical tradition have given him a depth of musicianship much in demand at solo and chamber masterclasses and seminars, which is mixed with a concern for the wider social responsibility of music, stemming from his Scandinavian environment.
For Ovation Press, Deckert has employed this musicianship in a wide number of arrangements of varying styles: including Bach's Four Canons from The Art of Fugue (Ottava, Duodecima, Decima, Augmentationem), Rachmaninoff's Vocalise, Saint-Saëns' The Swan, and much more.
Presently Hans Erik Deckert is Honorary President of the Danish section of ESTA (which he also founded in 1978) and resident conductor with the Cello Academy (which embraces a professional 12-part cello ensemble as well as regular training courses for students). He also holds a visiting post at the Freie Musikschule in Hamburg.
Learn more about Hans Erik Deckert and his arrangements at Ovation Press.