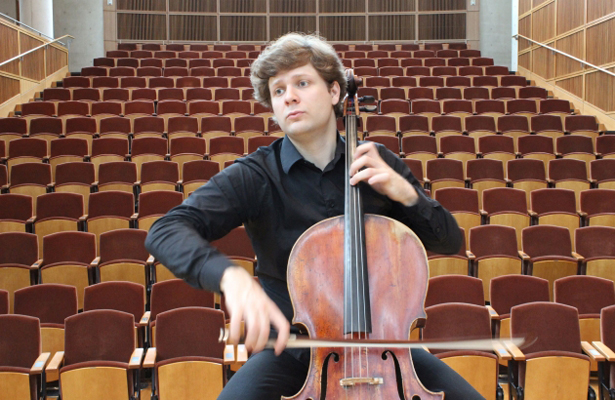 Amosov Original Sonata - Fantasy on a Folk Theme, Op. 8
Fedor Amosov is an exceptionally talented young Russian cellist who is fast becoming known worldwide. He previously arranged Puccini's famous aria "O Mio Babbino Caro" for us. Today we're excited to announce that the sheet music for one of Amosov's original compositions is available for download exclusively at Ovation Press: Sonata - Fantasy in a Folk Style for cello solo.
About Amosov's Sonata - Fantasy in a Folk Style for Cello Solo
Amosov's Sonata - Fantasy in a Folk Style, Op. 8 draws on characteristics found in Eastern European, Russian, and even some Asian folk music. The composition begins with an introduction that alternates between statements of the main theme and a plucked string counterpoint. Each successive occurrence of the main theme builds in speed until it reaches the main body of the piece at Maestoso e con fuoco. From here, Amosov further develops and embellishes the theme with rhythmic variations and grace note double stops, and the rapid plucked string passages from the intro return in longer form. While there are plenty of virtuosic passages, Amosov also intersperses slower periods of refrain, giving both performer and listener a break and a chance to more slowly absorb and contemplate the folk melodies.
Also, check out this YouTube recording of Fedor Amosov's Sonata - Fantasy.
About the Editor – Fedor Amosov
Born on March 27, 1988 into a musical family in Moscow, Fedor Amosov started playing the cello at the age of six and was accepted as a student at Moscow Conservatory's Central Music College. His first public performance took place when he was seven years old. Since then he has been performing regularly as a soloist and recitalist in Russia, throughout Europe, Japan, the United States, and elsewhere.
Early on his talent drew the attention of many masters of the cello. This provided Amosov the extremely rare opportunity to study with world renowned masters such as Mstislav Rostropovich, Suren Bagratuni, Stephen Geber, Natalia Gutman, Lev Evgrafov, Dmitri Yablonsky, and David Geringas. Working with these exceptional instrumentalists led to Fedor's rapid growth as a top level musician, resulting in spectacular success at many of the most prestigious international competitions.
Amosov's accomplishments are numerous and varied, including: winning First Prize multiple competitions such as the Concertino Prague 38th International; publishing his own CD, Russian Cello, on the Bel Air Music label with the music of Glazunov and Sokolov; and releasing his own arrangement of Jean-Baptiste Bréval's Six Sonatas op.12 for Cello and Piano on the Centaur label. He received his Performance Diploma from Michigan State University in 2010 and his MM from the Cleveland Institute of Music in 2012, where he currently resides working on an advanced degree through 2015.
Learn more about Fedor Amosov and his arrangements at Ovation Press.