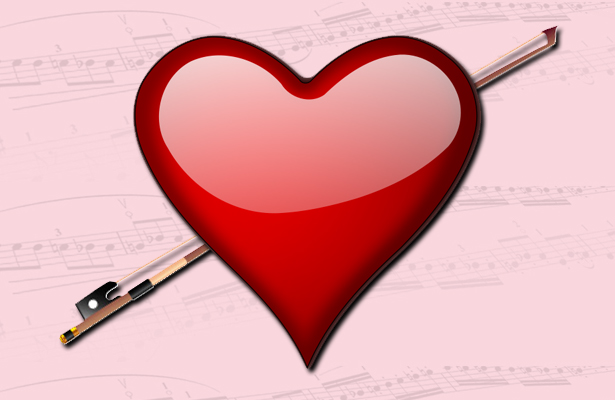 Happy Valentine's Day with Three Viola Arrangements of Fauré
What better way to celebrate this year's Valentine's Day than with viola arrangements of Gabriel Fauré, one of the greatest Romantic-era composers of love songs. Acclaimed violist and editor Donald McInnes has selected three of Fauré's songs from different points in his musical career to arrange for viola and piano. These three arrangements are available exclusively at Ovation Press and ready for download so you can give them to the violist in your life (or to yourself)!
About Fauré's Notre amour for Viola and Piano
From his later Three Songs, Op. 23, the original poem Notre amour is by Armand Silvestre. This work is a pure and unadulterated celebration of happy, sacred & eternal love. The music is suitably exuberant with its soaring melodic lines, its rapidly moving triplet figure in the accompaniment, and its almost constant major modality.
About Fauré's Dans les ruines d'une abbaye for Viola and Piano
The first of Fauré's Two Songs, Op. 2, Dans les ruines d'une abbaye is a setting of a poem by Victor Hugo. The original lyrics paint the picture of newlyweds outdoors in springtime on the grounds of an old abbey, their vivacious peals of joy and laughter in defiant contrast to the sombre shadows cast by clerical history. Even the tombstones inscribed with crosses, and thoughts of the praying nuns of yore, cannot dampen this young couple's fun and games. Below is the English translation for final two stanzas.
We go along cuddling,
adoring one another;
at every moment we kiss,
and kiss again;

under the pillars, the arches
and the statues,
it's the story
of the birds and the bees.

About Fauré's Lydia for Viola and Piano
The Two Songs, Op. 4 marked a period in which Faure moved away from his youthful penchant for the poems of Hugo. Instead, he began to tackle shorter lyrics by somewhat younger poets who had the power to inspire him to a more intense musical response. Leconte de Lisle's Lydia was an ideal match for the composer's new melodic espousal. Though the music appears with an element of simplicity at a first glance, a new sophistication emerged beneath the surface with a ravishing melodic line discreetly shadowed by the piano. An ancient Greek atmosphere is created partly by use of the Lydian mode with sharpened fourth of the scale.
About the Editor – Donald McInnes
Donald McInnes, world famous violist and teacher, is known in virtually every corner of the artistic world for his appearances with major orchestras, recitals, chamber music participation, and numerous master classes. In 1985, he accepted the appointment as Professor of Viola at the University of Southern California (the position previously held by his teacher, the famed William Primrose).
Mr. McInnes has appeared as soloist with such orchestras as the New York Philharmonic, Boston Symphony, Orchestra Nationale de France, Toronto Symphony, Seattle Symphony, the National Symphony UNAM Philharmonic of Mexico, and many more. Although retiring from public performance in 2009, he maintains a very busy schedule with his class of viola students from throughout the world. Today, his students can be found winning important competitions, in leading orchestras, and teaching at many of the finest conservatories and universities. In addition, Mr. McInnes has been an active recording artist who can be heard on Columbia, RCA, Deutsche Grammophon, Angel(EMI), etc. During the fall of 1999, a re-release of his famous recording of Berlioz' Harold in Italy with Leonard Bernstein conducting became available. The Penguin Guide to CD's ranked this recording as follows:
"Donald McInnes is a violist with a superbly rich and even tone. His first entry, with the phrase echoed, is a ravishing moment and he responds at all times to the conductor, yet has plenty of individuality. This recording goes to the top of the list of available recordings."
In 2004, Mr. McInnes was honored as the National Artist Teacher of the Year by the American String Teachers' Association. This same year he also received the Silver Alto Clef Award, the highest award presented by the International Viola Society.
Learn more about Donald McInnes and his arrangements at Ovation Press.