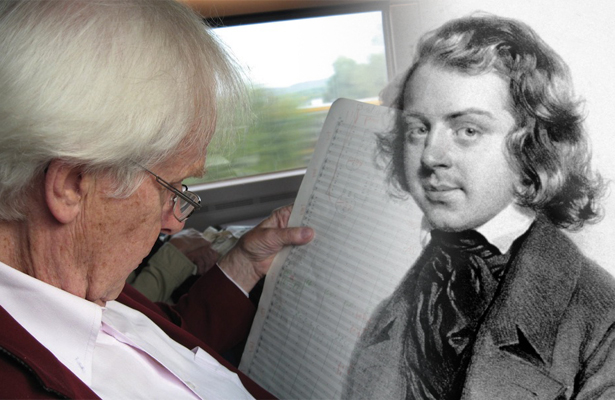 Hans Erik Deckert taps Danish and German musical roots
Hans Erik Deckert – himself of both Danish and German descent – has arranged two pieces of his musical legacy for cello ensemble with Danish composer Niels Gade's Morning Song and the German folk song Es sungen drei Engel.
About Gade's Morning Song for Cello Septet
Niels Gade was considered the most important Danish musician of his time. He headed the Copenhagen Musical Society, which reached its peak under his directorship, establishing a new orchestra and chorus. Gade would later be an important influence on many future Scandinavian composers, including teaching Edvard Grieg and Carl Nielsen. His output included organ & piano solo works, chamber music, a violin concerto, eight symphonies, large-scale cantatas, and choral works.
Morning Song was originally a seven-part choir composition with symphony orchestra. Although it has been arranged for various ensembles such as a cappella, Deckert's distinctive cello septet arrangement captures the original choral sound on string instruments. Deckert himself describes it as "a Danish treasure [that] should be known and performed everywhere!"
About the folk song Es sungen drei Engel for Cello Quartet
Es sungen drei Engel is a 13th century German folk song which has been adapted in numerous ways over the years.
"The German folk song Es sungen drei Engel was originally a 3-part choir piece with a bass part added later. This arrangement for cello quartet is exactly like the choir version. The original folk melody is played by the first cello part. This arrangement can also be played without the bass line so it is like the original 3-part version."

--Hans Erik Deckert
About the Editor – Hans Erik Deckert
Hans Erik Deckert was born and grew up in Germany. The son of German and Danish parents, he moved to Denmark shortly after the war in order to study cello and conducting in Copenhagen. Deckert has had a passionate and prolific career in these fields, as well as in chamber music. His roots in the German musical tradition have given him a depth of musicianship much in demand at solo and chamber masterclasses and seminars, which is mixed with a concern for the wider social responsibility of music, stemming from his Scandinavian environment.
For Ovation Press, Deckert has employed this musicianship in a wide number of arrangements of varying styles: including Bach's Four Canons from The Art of Fugue, Rachmaninoff's Vocalise, Saint-Saëns' The Swan, and much more.
Presently Hans Erik Deckert is Honorary President of the Danish section of ESTA (which he also founded in 1978) and resident conductor with the Cello Academy (which embraces a professional 12-part cello ensemble as well as regular training courses for students). He also holds a visiting post at the Freie Musikschule in Hamburg.
Learn more about Hans Erik Deckert and his arrangements at Ovation Press.