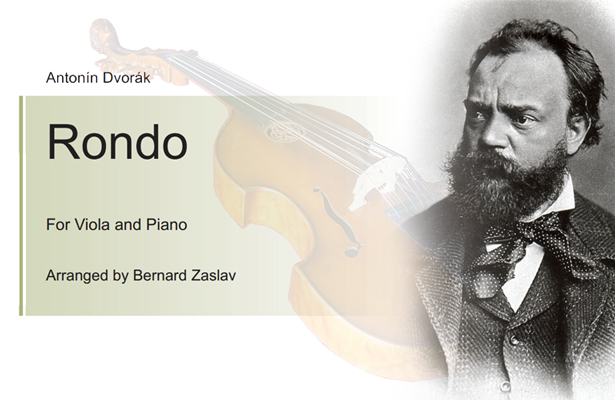 Bernard Zaslav arranges Dvořák's Rondo in G minor for Viola and Piano
Antonin Dvořák has long been a subject of interest for editor Bernard Zaslav. Mr. Zaslav has recorded an entire album of Dvořák transcriptions for the viola and has published three of them with Ovation Press, further contributing to our growing collection of arrangements for viola and piano.
Now, Dvořák's Rondo in G Minor, Op. 94 (previously released for cello ensemble) finds a home on the viola with an outstanding arrangement by Bernard Zaslav. The Rondo is a wonderfully entertaining piece that belongs in the standard repertoire of cellists... and violists too!
About Dvořák's Rondo for Viola and Piano
This Rondo was written in 1981 for a "farewell" tour of Bohemian and Moravian cities the following year. Dvořák had agreed to become Director of the newly formed Conservatory of Music of America and was set to depart for the United States. As fellow performers he chose his friends, violinist Ferdinand Lachner and cellist Hanus Wihan. The three musicians performed Dvorak's piano trios together, as well as solo pieces. Dvořák wrote the Rondo to be played with Wihan throughout the tour, and two years later he arranged the piano accompaniment for small orchestra.
American music lecturer Benjamin Folkman notes that the Rondo uses a "dance-like Slavic-voiced theme which combines jaunty humor with wistfulness in typically Dvořákian fashion." In addition, the rondo has two contrasting counter-subjects: "one suavely amorous in its melodic arch, the other euphoric with irrepressible scampering triplets." These three distinctive motifs evolve according to the regular form A-B-A-C-A-B-A.
About the Editor – Bernard Zaslav
A native of Brooklyn, New York, Bernard Zaslav spent the first two years of his career in the viola section of the Cleveland Orchestra under George Szell, and the rest of the 20th century as violist of the Kohon String Quartet, the Composers String Quartet, the Fine Arts String Quartet, the Vermeer String Quartet, and the Stanford String Quartet. Within these ensembles he shared the responsibility for commissioning, premiering, and recording new works by some of the most distinguished composers of the era – including Elliot Carter, Milton Babbitt, Ruth Crawford-Seeger, Roger Sessions, William Balcom, and many others. In addition, the Zaslav Duo, comprised of Bernard and his wife Naomi, have achieved high recognition and acclaim for their recordings of the viola/piano literature since their debut in 1962. Their five CDs for the Music & Arts Programs of America label include an entire album of the music of Dvorák, transcribed for viola and piano.
On May 3, 2014, the Bernard Zaslav archive of music and memorabilia became a part of PIVA (Primrose International Viola Archive) at Brigham Young University in Provo, Utah. A truly great honor, Mr. Zaslav's sheet music and recordings are available there to violists worldwide.
Learn more about Bernard Zaslav and his arrangements at Ovation Press. Also, be sure to check out our interview with Bernard Zaslav, conducted by Ovation Press co-founder Hans Jensen.