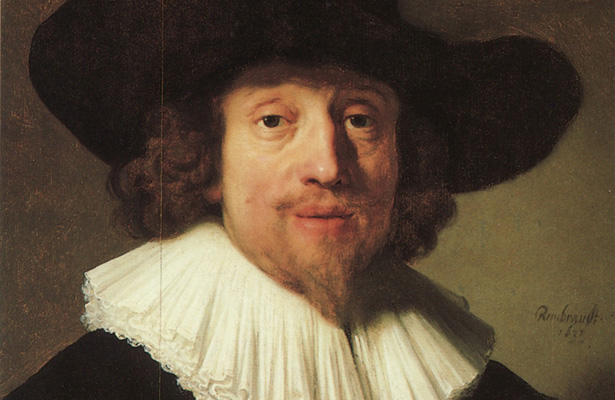 Deckert arranges two works by Heinrich Schütz for cello ensemble
Widely regarded as the greatest German composer before J.S. Bach, Heinrich Schütz made a number of significant musical contributions to the Early Baroque. Unfortunately, not all of them have made it to the modern age. Though he produced the first German opera Dafne, the music has since been lost. Almost all of Schütz's work that remains today are vocal settings of sacred texts.
Thanks to editor Hans Erik Deckert, two of these vocal settings are now available for cellists to enjoy together. Like many of Schütz's original compositions, these arrangements have a dramatic tonal language framed by rhythmic polyphonic writing. The works remain uniquely individual and are a treat to hear on the cello
About Schütz's Aller Augen warten auf dich for Cello Quartet
Aller Augen warten auf dich is a short prayer sung by a 4-part choir. Deckert's arrangement stays in the original key and highlights Schütz's talent for creating succinct compositions.
English translation:
All the eyes look to You, Lord
and Thou give them their food in due time.
You open Your hand and satisfy the desire
of every living thing.

About Schütz's Unser Wandel ist im Himmel for Cello Sextet
Unser Wandel ist im Himmel for Cello Sextet is one of the 29 motets from the choir work Geisliche Chormusik. This is a very expressive work from the early baroque period. Again, Deckert keeps his arrangement in the original key.
English translation:
Our homeland is in heaven;
from where we also look for 
the Savior,
Jesus Christ the Lord.
Who shall transform our earthbound body,
so that it will be like His glorious body,

using to the power 
with which
All things are made
 humble under Him.

About the Editor – Hans Erik Deckert
Hans Erik Deckert was born and grew up in Germany. The son of German and Danish parents, he moved to Denmark shortly after the war in order to study cello and conducting in Copenhagen. Deckert has had a passionate and prolific career in these fields, as well as in chamber music. His roots in the German musical tradition have given him a depth of musicianship much in demand at solo and chamber masterclasses and seminars, which is mixed with a concern for the wider social responsibility of music, stemming from his Scandinavian environment.
For Ovation Press, Deckert has employed this musicianship in a wide number of arrangements of varying styles: including Bach's Four Canons from The Art of Fugue, Rachmaninoff's Vocalise, Saint-Saëns' The Swan, and much more.
Presently Hans Erik Deckert is Honorary President of the Danish section of ESTA (which he also founded in 1978) and resident conductor with the Cello Academy (which embraces a professional 12-part cello ensemble as well as regular training courses for students). He also holds a visiting post at the Freie Musikschule in Hamburg.
Learn more about Hans Erik Deckert and his arrangements at Ovation Press.