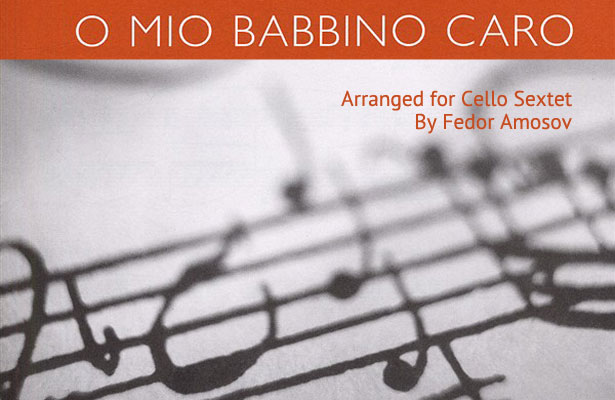 Fedor Amosov arranges the famous Puccini Aria for cello sextet
"O Mio Babbino Caro" is among the most popular arias in opera and is arguably Giacomo Puccini's most famous work. The comic opera Gianni Schicchi, which the aria is from, is based on an incident mentioned in Dante's Divine Comedy. Over the years, the aria has been done in countless arrangements – from piano & voice, to solo violin, to string orchestra. Editor Fedor Amosov's arrangement is one of the few cello ensemble versions.
Amosov's recent rapid growth and critical acclaim in competition, composition, and arrangement make it a joy for us to publish this new take on a classic song with him.
About Puccini's "O Mio Babbino Caro" for Cello Sextet
"O Mio Babbino Caro" is sung by the daughter of the opera's titular character, imploring her father to look at the will of a recently deceased wealthy aristocrat. The range and ornamentation of the vocal melody convey the desperate pleading of the daughter. Amosov's arrangement gives that voice to a cello sextet.
The aria "O Mio Babbino Caro" from the opera Gianni Schicchi by Giacomo Puccini is a piece of music we will never get bored with... This particular arrangement was written due to my endless love of Puccini's music and for the debut concert of a newly formed Cleveland Institute of Music Cello Ensemble.

--Fedor Amosov
About the Editor – Fedor Amosov
Fedor Amosov is an exceptionally talented young Russian cellist who is fast becoming known worldwide. Born on March 27, 1988 into a musical family in Moscow, he started playing the cello at the age of six and was accepted as a student at Moscow Conservatory's Central Music College. His first public performance took place when he was seven years old. Since then he has been performing regularly as a soloist and recitalist in Russia, throughout Europe, Japan, the United States, and elsewhere.
Early on his talent drew the attention of many masters of the cello. This provided Amosov the extremely rare opportunity to study with world renowned masters such as Mstislav Rostropovich, Suren Bagratuni, Stephen Geber, Natalia Gutman, Lev Evgrafov, Dmitri Yablonsky, and David Geringas. Working with these exceptional instrumentalists led to Fedor's rapid growth as a top level musician, resulting in spectacular success at many of the most prestigious international competitions.
Amosov's accomplishments are numerous and varied, including: winning First Prize multiple competitions such as the Concertino Prague 38th International; publishing his own CD, Russian Cello, on the Bel Air Music label with the music of Glazunov and Sokolov; and releasing his own arrangement of Jean-Baptiste Bréval's Six Sonatas op.12 for Cello and Piano on the Centaur label. He received his Performance Diploma from Michigan State University in 2010 and his MM from the Cleveland Institute of Music in 2012, where he currently resides working on an advanced degree through 2015.
Learn more about Fedor Amosov and his arrangements at Ovation Press.