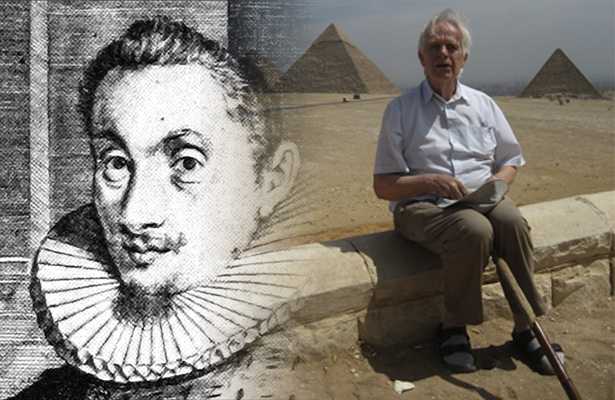 Hans Erik Deckert brings two arrangements of Hans Leo Hassler to cello ensemble
Two Hans have come together to deliver two new arrangements for our cello ensemble catalog! Prolific Ovation Press editor and in-demand musician Hans Erik Deckert has chosen the music of Renaissance/Early Baroque composer Hans Leo Hassler as his subject. Although German by birth, Hassler studied extensively in Italy and was one of the most influential musicians to bring the innovations of the Venetian style to his homeland.
One of Hassler's most important achievements was to combine Italian virtuoso conventions with the more conservative Germanic style: blending innovation and tradition. Deckert's arrangements preserve the distinctive multi-style character of Hassler's original compositions.
About Hassler's Drei Intraden for Cello Sextet
The Drei Intraden (preludes) are among some of the oldest works in the homophonic German instrumental music collection. This arrangement for six cellos is very suitable for festive events and celebrations.
About Hassler's Tanzen und Springen for Cello Quintet
Hassler's Tanzen und Springen for Cello Quintet is an arrangement of a merry and "dancing" madrigal for a cappella choir. Deckert has made this arrangement quite easy and very suitable for younger players.
About the Editor – Hans Erik Deckert
Like his counterpart Hassler, Hans Erik Deckert was born and grew up in Germany. The son of German and Danish parents, he moved to Denmark shortly after the war in order to study cello and conducting in Copenhagen. Deckert has had a passionate and prolific career in these fields, as well as in chamber music. His roots in the German musical tradition have given him a depth of musicianship much in demand at solo and chamber masterclasses and seminars, which is mixed with a concern for the wider social responsibility of music, stemming from his Scandinavian environment.
For Ovation Press, Deckert has employed this musicianship in a wide number of arrangements of varying styles: including Bach's Four Canons from The Art of Fugue, Rachmaninoff's Vocalise, Saint-Saëns' The Swan, and much more.
Presently Hans Erik Deckert is Honorary President of the Danish section of ESTA (which he also founded in 1978) and resident conductor with the Cello Academy (which embraces a professional 12-part cello ensemble as well as regular training courses for students). He also holds a visiting post at the Freie Musikschule in Hamburg.
Learn more about Hans Erik Deckert and his arrangements at Ovation Press.