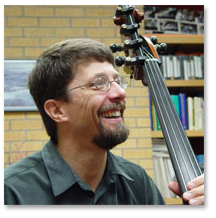 Jeff Bradetich Technical Exercises titled after book
It has always been our good fortune to have Jeff Bradetich as one of our editors. Once proclaimed by the New York Times as "the master of his instrument," Mr. Bradetich has not only provided Ovation Press with exceptional music, he has also recorded fantastic video interviews about his editions and topics around professional musical development.
Now, Mr. Bradetich has agreed to publish with Ovation Press the Technical Exercises that accompany his book Double Bass: The Ultimate Challenge!
About Bradetich's Technical Exercises - The Ultimate Challenge for Bass Solo
In 2009, Mr. Bradetich published his double bass treatise The Ultimate Challenge, a work which addresses many of the questions in building a well-founded technique and musical mindset. In the exact same spirit, he has compiled a set of Technical Exercises, collected over the last three and a half decades from a variety of sources which go beyond double bass pedagogues:
The exercises, in and of themselves, are only as valuable as the player makes them. In order for strong progress to be made, the player should apply all of the important mechanics of playing and the vital practice methods discussed in the book: Double Bass: The Ultimate Challenge. Because of the technical demands that the double bass presents, the player needs a systematic approach to practicing and progress. These Technical Exercises cover the basics of advanced to virtuosic playing. Playing just what is written here is a good start, but each exercise should be practiced in many different keys, on different strings, with a variety of bowings, rhythms, and fingerings, starting both down bow and up bow, playing in different parts of the bow and at different speeds and volumes.

--Jeff Bradetich
About the Editor - Jeff Bradetich
Jeff Bradetich is widely regarded as one of the leading performers and teachers of the double bass in the US today. As a young student growing up in Eugene, Oregon, Mr. Bradetich studied with Robert Hladky, cello professor at the University of Oregon. He received his Bachelor's and Master's degrees from Northwestern University where he studied with Warren Benfield and Joseph Guastafeste. His other major musical influences include: performing for ten seasons at the Oregon Bach Festival with Helmuth Rilling, one of the world's leading Bach authorities; summer study with Gary Karr and many of the leading double bass pedagogues in the US; and performing for four seasons with the Lyric Opera of Chicago Orchestra.
Since his New York debut in Carnegie Recital Hall in 1982 he has performed more than 400 concerts on three continents including his London debut in Wigmore Hall in 1986. He has won many major solo competitions and has been featured on radio and television throughout North and South America and Europe including CBS, CNN, BBC, CBC and NPR.
To see the many resources Mr. Bradetich has published with us, visit our blog String Visions. You can also learn more about Mr. Bradetich on his Ovation Press editor profile.