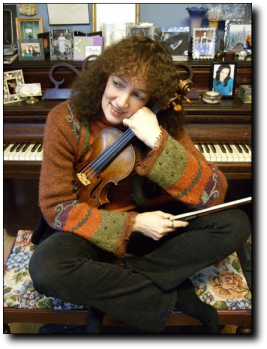 Amy Barlowe Transcribes Scarlatti for the Violin and Viola
Editor Amy Barlowe has brought one of the more popular sonatas by Italian baroque composer Domenico Scarlatti to strings. With its appealing Spanish character, this work in part represents the second half of Scarlatti's career (which he spent in Spain). Graceful and light, this sonata is well known as a guitar transcription and is now available as a violin and viola transcription.
About Scarlatti's Sonata in G Major K. 391 for Violin and Viola
From Amy Barlowe's notes about the score:
The elegant Sonata in G Major, K. 391, is particularly well suited to the violin and viola because of its linear contrapuntal texture. As a duo, the parts are well balanced, encouraging lively conversations between the two instruments throughout the work. Since the harpsichord could not easily produce dynamics, and because baroque musicians were noted for their adept spontaneity, literature of this period is often devoid of markings. Those to be found in this duo are merely suggestions. Performing the sonata with dance-like energy, lightness, and sparkle will imbue it with characteristic charm.
Purchase Scarlatti's Sonata in G Major for Violin and Viola today!
About the Editor – Amy Barlowe
Ms. Barlowe received her B.M. and M.M. degrees from the Juilliard School after studies with Ivan Galamian and Margaret Pardee. She also studied chamber music with coaches Josef Gingold, Felix Galimir, Samuel Rhodes and Earl Carlyss.
As an extremely accomplished composer, Ms. Barlowe has had her arrangement of "Schindler's List" endorsed by John Williams and published by Hal Leonard for two violins or violin and viola with orchestra, as well as for the same combinations with piano. Her original compositions and arrangements include works for two violins and piano, an opera ballet, and a Requiem Mass. Her two Celtic duos for two violas appear on a CD recorded by the Aureole Trio and have been released on the Koch International label. In addition, Ms. Barlowe's critically acclaimed solo and chamber performances have taken her throughout the US, Canada, and Mexico.
Amy Barlowe is the recipient of numerous awards including the Helena Rubinstein Scholarship, Atkinson and Northwest Area grants. Gingold has praised her for "...fine musicianship, excellent instrumental qualities, and a devotion to all things musical."