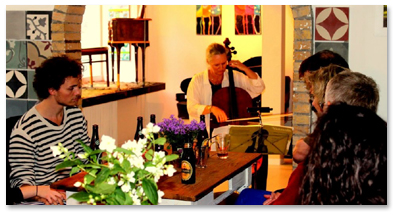 Danish Musician's Arrangement Testament to Musical and Human Expression
Danish musician and self-taught composer Lene Holt Nielsen comes to Ovation Press with a unique arrangement that speaks to the idea of expression... not only as musicians but as humans. Earlier in 2013, Ms. Nielsen wrote that:
The first musical expression of the human being is singing. Before we can even speak our native tongue we begin uttering sounds that express our feelings, conditions and our need to be together with our fellow human beings. We sing it out as tiny people, and the big people come to us for help, love and nurturing. Thus the "inner song" always lies underneath all good musical expression also via an instrument. It is the oldest thing we know as musicians and the cello is very well suited for expressing that "inner human song".
About Nielsen's Tribute for Cello for Sextet
Tribute is conceived of as a medley of spiritual songs and was arranged for a great cello gathering in Esbjerg with Danish Suzuki teacher Peter Oest. Nielsen recommends that you begin each by singing the songs that are included in this medley to help understand the phrasing and rhythm. As she describes it, this allows you to get "the idea of the spirit of the songs that you are interpreting." Tribute is comprised of 6 songs:
Joshua Fit the Battle of Jericho
Nobody Knows the Trouble I've Seen
When the Saints Come Marching In
Mary's Boy Child
Give Me That Old Time Religion
Deep River
Purchase Nielsen's Tribute for Cello Sextet today!
About the Editor – Lene Holt Nielsen
Danish musician Lene Holt Nielse is a self taught composer. She has composed 3 operas for children, music for theatre pieces, choir music and songs for classical voices. Her latest work is 3 songs for soprano, cello and piano with lyrics by Federico García Lorca (in Danish). She is now working at a daily basis playing the organ in two small churches in Northern Jutland, Denmark and she plays the cello whenever there's an opportunity to do it.
Ms. Nielsen achieved a Masters in cello and chamber music from "Det Jydske Musikkonservatorium", Aarhus, in 1987. Her teacher was the well known Professor Asger Lund Christiansen, member of the Copenhagen String Quartet, and Hans-Erik Deckert was teaching her orchestra playing.
Her artistic ideal is the old cellist Pablo Casals, not only because of his artistic qualities but also because of his political and humanitarian ideals. As Pablo himself says: "An artist with conscience cannot separate himself from certain political issues. Chief among those are justice and freedom." Peace!
Learn more about the editor
Lene Holt Nielsen
.