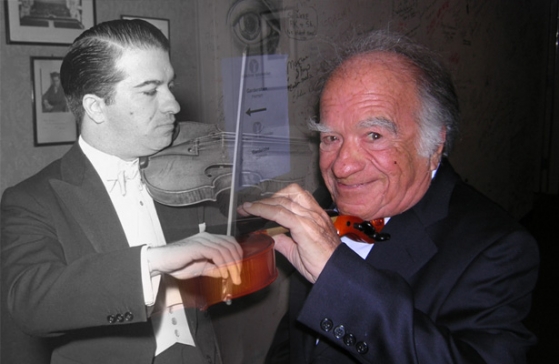 Ruggiero Ricci's Legacy Lives On
A little over a year ago on August 5th, 2012, the violin community lost a legend with the passing of Ruggiero Ricci. From the moment he took the world by storm with his astounding debut in 1928 at the age of 10 it was obvious that Ricci would be one of the greatest violinists of all time. As a leading New York critic wrote soon after his debut, "All that great violinists do, he did."
While we, along with the entire music world, sorely miss him, we are honored to release the Ruggiero Ricci Edition of Antonín Dvořák's Violin Concerto. Ernst Schliephake, a violinist who has edited scores for Henle and was close friends with Ricci, painstakingly copied the bowings, fingerings and special bow positions Ricci used as documented in a video of a performance with the Sydney Symphony. We hope that this new edition breathes new life into a well-known concerto while at the same time helping all violinists to cherish the memory of a monumental performer and teacher.
About Dvořák's Violin Concerto, Op. 53 (for Violin Solo with Orchestra)
Antonín Dvorák composed his Violin Concerto in the summer of 1879, revising it the following year on the advice of his good friend Joseph Joachim. The Concerto premiered in Prague on October 14, 1883. It remains an important work in the violin repertoire.
Read more about the edition and purchase the Ruggiero Ricci Edition of Dvorák's Violin Concerto, Op. 53 today!
About the Editor – Ruggiero Ricci
Ruggiero Ricci made his debut in 1928 at the age of 10 in San Francisco playing a formidable programme of works by Vieuxtemps, Saint-Saens, Mendelssohn and Wieniawski, astounded the audience and started him on the road to early stardom. Ricci's first teacher, from the age of six, was Louis Persinger. He later studied with Michel Piastro, Paul Stassevitch and Georg Kulenkampf. Teaching posts included Indiana University, the Juilliard School and the University of Michigan. His book Left Hand Technique was published by G. Schirmer.
Ruggiero Ricci passed away on August 5th, 2012. To learn more about his career and recordings please visit the Ruggiero Ricci website. You can also learn more about him by visiting his Ovation Press editor profile.