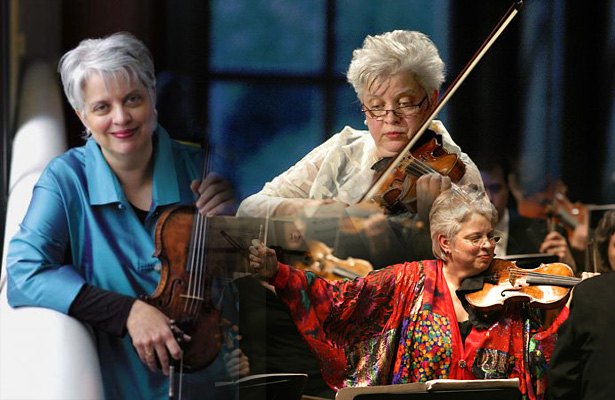 Jorja Fleezanis talks orchestras, teaching, and her new Don Juan score
Our co-founder Hans Jensen interviewed acclaimed violinist and editor Jorja Fleezanis, Ms. Fleezanis can be seen as a pioneer for women in the field of professional orchestras, as the second woman in the U.S. to hold the title of concertmaster in a major orchestra when appointed as such for the Minnesota Orchestra in 1989. She was also that orchestra's longest-tenured concertmaster, having held the post for two decades. Today she sits on the faculty of the Jacobs School of Music at Indiana University.
In addition, Ms. Fleezanis is on the roster of Ovation Press editors, having provided orchestral parts for violin. Her most recent work is the violin orchestral part to Richard Strauss' Don Juan.
About Strauss' Don Juan (Violin Orchestral Part)
From the second part of our interview with Jorja Fleezanis:
The poem by Nicholaus Lenau that inspired this work is in the front of the score and must be read if one is to truly understand the force of nature this work portrays so brilliantly.

Being the theatrical genius of such gritty operas like Elektra and Salome, it is no surprise that Strauss would create 'Don Juan' into one of the most unrelenting and driving orchestral works in the literature. It is as virtuosic as its hero. For me, playing a note perfect version of any work without the blood and guts of the subtext, especially when it so vividly outlined by a source, is to miss the whole point. The opening gesture of seven fast notes, lunging upward after a gulp of quick silence on the downbeat, immediately sets us on course with flare and an unmistakable sense of this unstoppable, dominant character...
Purchase Fleezanis' edited violin orchestral part to Strauss' Don Juan today!
About the Editor – Jorja Fleezanis
Jorja Fleezanis was concertmaster of the Minnesota Orchestra from 1989 to 2009—the longest tenured concertmaster in the orchestra's history and only the second woman in the U.S. to hold the title of concertmaster in a major orchestra when appointed. She also held the post of associate concertmaster with the San Francisco Symphony for eight years and began her professional career at age twenty-three as a member of the Chicago Symphony. In the fall of 2009 she became Professor of Violin and Orchestral Studies at the Jacobs School of Music at Indiana University in order to devote herself full time to teaching and mentoring.
Learn more about the editor Jorja Fleezanis. Also be sure to check out our interview with her: part 1, part 2.