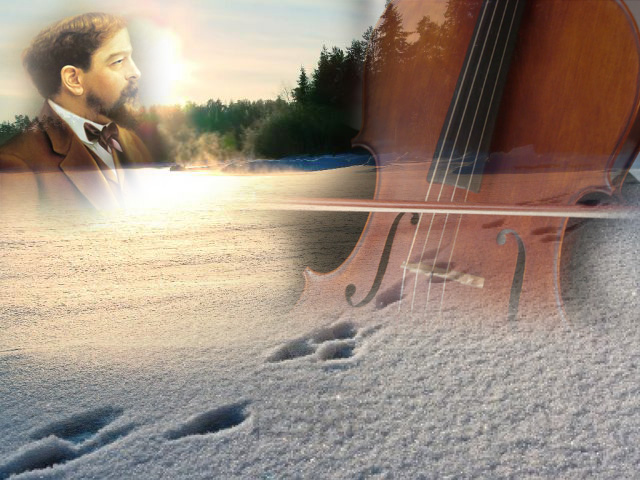 Impressionist Painting with Four Cellos
Although we're clearly out of the winter season (finally), editor Charles Jacot has sought fit to leave us with a little reminder of what many of us often experience in the months between December and March. Debussy's Des pas sur la neige "Footsteps in the Snow" is the sixth prelude from Debussy's first book of these piano pieces. It makes its debut in the Ovation Press catalog as an arrangement for cello quartet.
About Debussy's Footsteps in the Snow (for Cello Quartet)
In general, Debussy did not purposely write his preludes to follow themes or titles. Like others, he often included them after their completion, as an afterthought. And yet, this prelude seems to evoke a "bleak and forlorn wintry mood as the insistent ostinato plods forward, and the broken melodic line hovers above." The musical structure of the work expresses almost a sense of hopelessness, and the resignation to that feeling.
If Debussy's represents one of the best examples of impressionism in music, then the cello can be thought of as an excellent tool for "painting" with melody and harmony. Jacot states that: "The piece lends itself well to a cello ensemble. Few compromises had to be made from the original."
Read more about the arrangement and purchase Debussy's Footsteps in the Snowfor Cello Quartet today!
About the Editor – Charles Jacot
Charles Jacot currently resides in Seattle, where he is a member of the Pacific Northwest Ballet Orchestra and a frequent sub for both the Seattle Opera and Seattle Symphony, with whom he has participated in several recordings in the past decade.
Originally from the Chicago suburb of Downers Grove, Charles studied there with Chicago Symphony members Alois Trnka and CSO Principal, Frank Miller. He found a passion for playing orchestral music there, hearing many CSO performances during the Solti years and playing several seasons in the Chicago Civic Orchestra. After meeting Hans Jørgen Jensen at the A.F. of M's Congress of Strings summer program, Charles went to study with him at the University of Houston, earning a Bachelor of Music degree and graduating summa cum laude. Charles later earned his Masters degree at the Juilliard School where he studied with Harvey Shapiro.
Learn more about the editor Charles Jacot
.