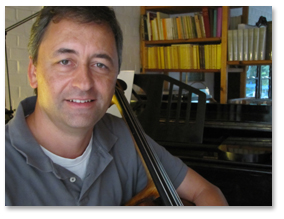 Carsten Jaspert Arranges Chopin Etude for Cello Quartet
We are excited to announce the release of a new arrangement for cello ensemble by German-born cellist Carsten Jaspert. A member of the cello section of the NDR Radiophilharmonie in Hannover, Mr. Jaspert has chosen a fantastic work to arrange this time: a Chopin piano etude.
About Chopin's Etude in E-flat Minor arranged for cello quartet
The sixth in Chopin's first collection of etudes (Op. 10), the E-flat minor is a more moderate tempo work compared to many of his other etudes. In many ways it resembles the nocturnes (which Chopin is so famous for), with an expressively chromatic structure and polyphonic layers. The dark and somber timbre of the work has been commented by some to represent a form of "meditated grief," speaking almost as an elegy would.(see Casella, Alfredo. F. Chopin. Studi per pianoforte. Milano: Edizioni Curci, 1946, p. 38.)
Mr. Jaspert has these words to say about the etude:
The Etudes of Frédéric Chopin are not only technical exercises but together with the Preludes are among the most beautiful piano pieces Chopin composed. The Etude in e-flat minor is a study in strange tonality and singing on the piano. In this function it's predestined for the cello which is the instrument that's most related to the human voice. This arrangement is also an excellent study in intonation.
Purchase Chopin's Etude in e-flat minor arranged for cello quartet today!
About the Editor – Carsten Jaspert
Carsten Jaspert was born in 1966 in Hüls, Germany. He studied celo with Jürgen Wolf in Düsseldorf and Rudolf von Tobel in Bern. Mr. Jaspert has participated in several notable festivals including the Tanglewood Young Artists Instrumental Program in 1984 and the Schleswig Holstein Musik Festival Orchester with Sergiu Celibidache in 1988. From 1987-1988 he was Principal Cellist of the Folkwang Kammerorchester in Essen. Since 1989 he has been a member of the cello section of the NDR Radiophilharmonie in Hannover.
Outside of his orchestral career Mr. Jaspert was a member of and arranger for the Cello Quartet "Die Rheinischen Cellisten" from 1998 – 2000. In 2000 the cello section of the NDR Radiophilharmonie founded the Cello Octet "Celli Family" for which Mr. Jaspert regularly writes arrangements. Since 2005 he has been the cellist in the Helian Quartett.