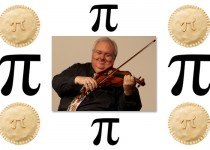 We at Ovation Press wanted to wish you all a very happy Pi Day! Celebrate it with us and editor Steven Rochen with A Piece of Pi for Violin and Viola!
Mr. Rochen – a professional musician and specialist in music for children, in addition to being an Ovation Press editor – has put together a fantastic score for violinists and violists.
About A Piece of Pi
Imagine being able to hear Pi in musical form. Now, thanks to Mr. Rochen's creative approach to composition we have the perfect celebratory tune for this year's Pi Day! The solo composition for violin or viola is based on the irrational number Pi (3.14159…) rounded to 220 decimal places in which numbers were converted to notes. Dedicated to the math teachers at Trinity School in New York City, the first performance took place on Pi Day, March 14, 2008. A Piece of Pi has impressed musicians and mathematicians, having received great acclaim from audiences in both serious recitals and mathematics symposia. It has been mentioned in articles published in worldwide media sources, including Agence France-Presse.
Make sure you get your "piece of pi" this year by purchase A Piece of Pi for Violin and Viola!
About Steven Rochen
Steven Rochen is a native Texan and a musician who has spent a great portion of his career instilling a love for and knowledge of music in young students. As a music specialist for children, he has served for more than two decades on the faculties of Third Street Music School Settlement, Trinity School and at the Meadowmount School of Music. At Third Street and Trinity, he has worked in developing the orchestral programs as a conductor and director in addition to his work teaching violin and coaching chamber music groups. Mr. Rochen's arrangements and compositions for children have been used in educational settings and in broadcasts on NBC and PBS. His musical career has included work in chamber music as a performer and as a coach which, when combined with his experience as an orchestral musician, has shaped his approach to conducting. He teaches children's orchestras with a view of music as an expanded form of chamber music, stressing interaction of musical voices and varying textures of sound.
A Piece of Pi is only one example of Mr. Rochen's creative output. Visit his website to learn more about him and his works.