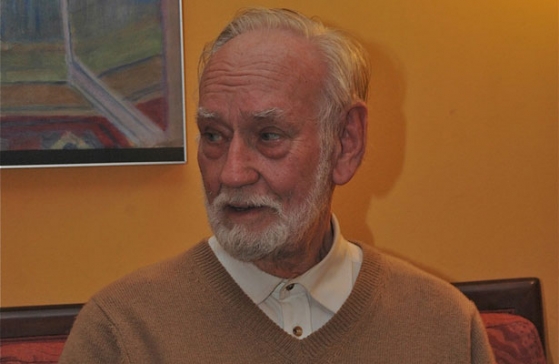 Gerhard Roither's world-class cello ensemble arrangements
Gerhard Roither is the latest editor to publish arrangements for cello ensemble with Ovation Press, bringing a number of unique and expertly crafted scores to our catalog. Included among them are two written for the 12 Cellists of the Berlin Philharmonic, one of the world's most highly regarded cello ensembles. This collaboration came about in 1972 when, during a tour with the Berlin Philharmonic, Mr. Roither was asked by the chamber group to compose several short pieces to use as encores. This inspired Mr. Roither to arrange the Seven Spirituals and, subsequently, the Swedish tune Ack Värmeland, du sköna.
About Roither's Seven Spirituals arranged for 12 celli
The Seven Spirituals are Roither's sophisticated take on seven African-American folk songs. They take full advantage of the complete tonal range of the cello and all the possibilities that a cello ensemble has to offer, including wonderful modulations. Roither succeeds in capturing the warm-hearted atmosphere of the original music. The inspiration for this set of works came from a memory Roither had: when he was younger his mother-in-law would play a record of African-American vocalists singing spirituals to him. That initial spark would blossom into the arrangements the Berlin Philharmonic cellists would first perform.
Purchase the Seven Spirituals for 12 celli today!
About the folk song Ack Värmeland, du sköna arranged for 12 celli
In contrast to the African-American spirituals, Ack Värmeland ("Dear Old Stockholm") is a Swedish folk song arranged for a concert given by the 12 Cellists of the Berlin Philharmonic in Stockholm for the Swedish King Carl XVI Gustaf of Sweden and Queen Silvia of Sweden (who was born in Germany).
Though the original folk song was written by the Swedish historian Anders Fryxell, it has experienced a number of renditions by various jazz artists including: Stan Getz, Miles Davis, Paul Chambers and John Coltrane. The song is about the Swedish county Värmland. Inside the country, this composition is often performed as an anonymous treasure of the Swedish folk tradition.
Purchase the folk song Ack Värmeland for 12 celli today!
About the Editor – Gerhard Roither
A native of Germany, Gerhard Roither was born in his homeland's capital of Berlin in 1932. He studied violin with M. L. König von Kleist and theory and composition with Gotthold Frotscher. Mr. Roither has been a member of the Deutsches Symphonie Orchester Berlin (formerly the RIAS- and later Radio-Symphony Orchestra Berlin) for over 40 years, as well as having been a member of the Fournes String Quartet from 1959 until 1970.
Learn more about Gerhard Roither by visiting his editor profile.