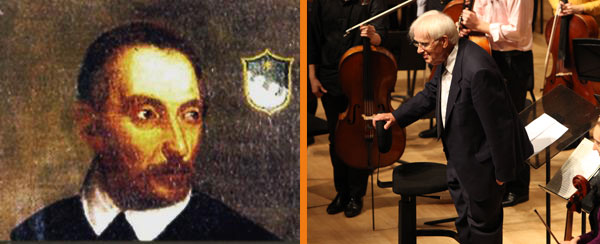 "A Happy Life" can be found on Cello Ensemble
Danish-German conductor-cellist and Ovation Press editor Hans Erik Deckert explores the Italian style in his latest arrangement for cello ensemble. For this he has chosen Giovanni Gastoldi, an Italian composer of the late Renaissance and early Baroque periods. Known for the publication of the strophic vocal dance balletti for five voices, Gastoldi also worked with madrigals and vocal music. Here Deckert has brought the essence of Gastoldi's vocal Renaissance music to the more modern ensemble setting of the cello quintet with his arrangement of A lieta vita.
About Gastoldi's A lieta vita arranged for cello quintet
A lieta vita translates to "A happy life." The first verse of the work in English is:
A Happy Life
Love calls us, Fa la la
Whose long days,
If the heart loves
Give to the foundation
In such a Lord, Fa la la
As the words clearly indicate, this madrigal is a happy and dancing movement in which the cello quintet assumes the role of the a cappella choir. The arrangement is quite simple and particularly suitable for children.
Purchase Gastoldi A lieta vita for cello quintet today!
About the Editor – Hans Erik Deckert
Hans Erik Deckert grew up in Germany and moved to Denmark shortly after the war in order to study cello and conducting in Copenhagen. His career in these fields, and more generally as a passionate animator in the field of chamber music, has developed from posts held at academies in Germany, Denmark and Sweden to his present freelance activity throughout Europe. Hans Erik Deckert's roots in the German musical tradition have given him a depth of musicianship much in demand at solo and chamber masterclasses and seminars, which is mixed with a concern for the wider social responsibility of music, stemming from his Scandinavian environment.
Presently, Hans Erik Deckert is Honorary President of the Danish section of ESTA (which he also founded in 1978), resident conductor with the Cello Academy (which embraces a professional 12-part cello ensemble as well as regular training courses for students), and holds visiting posts at the Freie Musikschule in Hamburg and the Institute for Music Therapy at Witten-Herdecke University in Germany.
Click here to learn more about editor Hans Erik Deckert. In addition, check out an exclusive article written by Mr. Deckert himself: the Seven Stages of Practicing, published on our blog String Visions!