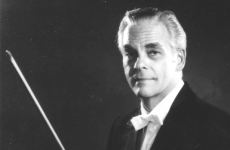 Featured Interview with Editor Norman Carol
We are excited to present a two-part interview with editor Norman Carol. The interview was conducted by Chicago-area flute / piccolo performer and teacher Shanna Gutierrez on behalf of Ovation Press. We previously featured this interview on our main site but have updated and moved it over to String Visions. In the interview, Mr. Carol discusses his professional experiences and offers advice to others aspiring for a career in music.
Mr. Carol is a not simply an editor with Ovation Press but a legendary musician who was the concertmaster of the Philadelphia Orchestra for nearly thirty years until his retirement in 1994. Over the course of his prolific career, Mr. Carol performed under several conductors including Eugene Ormandy and Riccardo Muti. Prior to leading the Philadelphia Orchestra, Mr. Carol was a member of the Boston Symphony Orchestra and the Minneapolis Symphony.
Read part 1 of the interview on String Visions, and stay tuned for the second part later in the week!
Exclusive Orchestral Parts for Violin Edited by Norman Carol
In the first part of the interview, Mr. Carol also discusses his thoughts on the importance of orchestral repertoire for students today:
I often say to young string players who are working on a particular piece that they'd better know this or that specific passage inside and out because this could well be the difference between earning a living or not.
Mr. Carol has edited several orchestral parts for violin for Ovation Press, two of which are featured below. To see them all, visit Norman Carol's editor profile.
Featured Score - Mahler Symphony No. 2 "Resurrection"
Gustav Mahler's Second Symphony is among one fo the post-Romantic composer's most famous and popular works. Known as the Resurrection Symphony, it captures Mahler's perspective on the beauty of afterlife and resurrection.
Purchase the violin part to Mahler's Symphony No. 2 today!
Featured Score - Tchaikovsky's Romeo and Juliet
Styled an Overture-Fantasy, Romeo and Juliet is based on Shakespeare's play of the same name. Though its initial reception was lukewarm, It has since become regarded as one of the most impressive works to emerge from the Russian classical tradition.
Purchase Tchaikovsky's Romeo and Juliet (Overture-Fantasy) today!