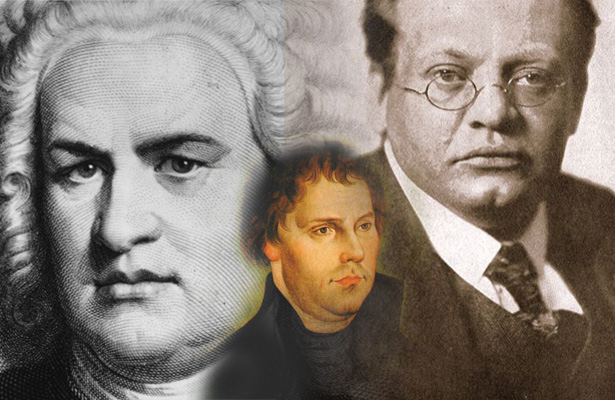 "Variations" of Aus tiefer Not for Cello Ensemble
In this latest release, editor Hans Erik Deckert has arranged multiple variations of a single work. Aus tiefer Not is a Lutheran chorale of which the words were written by Martin Luther himself as a paraphrase of Psalm 130. Published in 1524, it was part of the first Lutheran hymnal and has since them become a part of many subsequent hymnals.
Translated, the text of the first verse reads:
From deep affliction I cry out to you,
Lord God, hear my call;
incline your merciful ear here to me
and be open to my prayer!
For if you want to look at this,
what sin and injustice is done,
who can, Lord, remain before you?
Many composers have set Luther's text to music including Johann Sebastian Bach and Max Reger, both of whom are featured here in arrangements by Hans Erik Deckert:
About Bach's Aus tiefer Not arranged for cello quintet & cello sextet
Some would say that nothing sounds more natural than a Bach chorale performed with a cello ensemble. The cello, with its warm tonal quality and more than 4 octave range has the ability to directly take over the choir's four voices: soprano, alto, tenor and bass. Bach's Aus tiefer Not is available in arrangements for both cello quintet and cello sextet. These arrangements for cello ensemble are written with exactly the same pitches as the choir's original voices in masterful adaptions where Bach's polyphony unfolds with overwhelming beauty.
Purchase Bach Aus tiefer Not for Cello Quintet and Cello Sextet today!
About Reger's Aus tiefer Not arranged for cello quintet
Max Reger also arranged Aus tiefer Not as the third of his Fifty-two Chorale Preludes, Op. 67, composed in 1902. In this setting, the work is an organ chorale where the cantus firmus is written for the bass pedal. To perform Reger's complex rich harmonic texture requires expressive tonal colors while maintaining stoic calmness. The work should be performed with inward reflection and contemplation. The voices in this arrangement retain their original pitch.
Purchase Reger's Aus tiefer Not for Cello Quintet today!
About the Editor – Hans Erik Deckert
Hans Erik Deckert grew up in Germany and moved to Denmark shortly after the war in order to study cello and conducting in Copenhagen. His career in these fields, and more generally as a passionate animator in the field of chamber music, has developed from posts held at academies in Germany, Denmark and Sweden to his present freelance activity throughout Europe. Hans Erik Deckert's roots in the German musical tradition have given him a depth of musicianship much in demand at solo and chamber masterclasses and seminars, which is mixed with a concern for the wider social responsibility of music, stemming from his Scandinavian environment.
Presently, Hans Erik Deckert is Honorary President of the Danish section of ESTA (which he also founded in 1978), resident conductor with the Cello Academy (which embraces a professional 12-part cello ensemble as well as regular training courses for students), and holds visiting posts at the Freie Musikschule in Hamburg and the Institute for Music Therapy at Witten-Herdecke University in Germany.
Click here to learn more about editor Hans Erik Deckert. In addition, check out an exclusive article written by Mr. Deckert himself: the Seven Stages of Practicing, published on our blog String Visions!