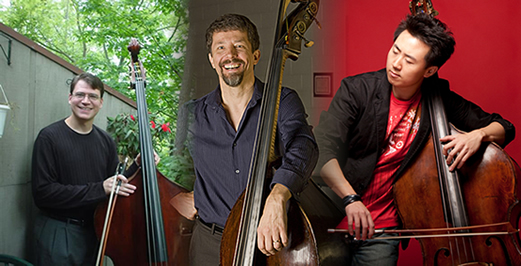 The Best of Bass Scores 2012
With the arrival of the new year, we wanted to leave you all with a look at some of the most popular bass scores of 2012. If you missed hearing about these somewhere along the way, now's your chance to revisit them!
Bruch Kol Nidrei (transcribed and edited by Jeff Bradetich)
Originally scored for cello and orchestra with harp, Jeff Bradetich has arranged it for solo bass with piano. The work is a series of variations on two main themes of Jewish origin. In fact, the name Kol Nidrei comes from the Kol Nidrei prayer recited during the evening service on Yom Kippur, also the basis of the first theme in Bruch's composition. In this setting of this melody, the cello imitates the rhapsodical voice of the hazzan who chants the liturgy in the synagogue. The second theme is a musical quote from the middle section of Isaac Nathan's arrangement of "O Weep for those that wept on Babel's stream," a lyric penned by Byron in a collection called Hebrew Melodies.
Purchase Bruch's Kol Nidrei today!
Visit Jeff Bradetich's editor profile
Check out an Ovation Press produced video (below) where Bradetich shares his thoughts on this work:
Paganini Caprice No. 9 (transcribed and edited by Anthony Stoops)
Niccolò Paganini's 24 Caprices is a famous set of solo violin works composed in the early 1800s. The caprices take the form of études, with each number studying individual skills (double stopped trills, extremely fast switching of positions and strings, etc.) Caprice No. 9 bears the nickname "La Chasse (The Hunt)" for the imitation of a pair of hunting horns in the second part of the main melody that opens the work. Stoops' technical advice for this piece is to be "economical with your bow usage" to help keep all of the technical challenges under control.
Purchase Paganini's Caprice No. 9 today!
Visit Anthony Stoops' editor profile
Massenet Meditation from Thais (transcribed and edited by DaXun Zhang)
Massenet's Meditation from Thais is a "symphonic intermezzo" from his opera Thais. Written for solo violin and orchestra, this work is performed between the scenes during Act II of the opera. The Meditation is considered one of the great encore pieces and has been transcribed for many different instrumental arrangements. DaXun Zhang – who has performed extensively as a soloist and with the Silk Road Project, and who has been labeled as "champion" and "headliner" of the double bass – has brought this work to his instrument.
Purchase Massenet's Meditation from Thais today!