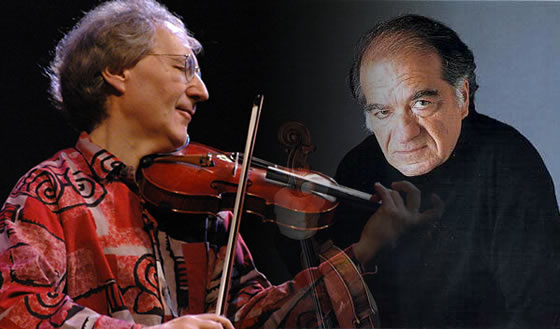 The Best of Violin Scores 2012
With the arrival of the new year, we wanted to leave you all with a look at some of the most popular violin scores of 2012. If you missed hearing about these somewhere along the way, now's your chance to revisit them!
Voyage à deux, volume 2 (composed by Helmut Lipsky)
Our multi-part interview series with Mr. Lipsky and the Canadian ensemble Duo Philia in 2012 was a huge hit with our readers, and it gave us all an opportunity to take a deeper look at his many compositions. The second volume of Voyage à deux (Trip for Two), continues where the first book leaves off, both in terms of the musical journey and the technical challenge. Exploring playing in higher positions and in double stops, this work is meant for more intermediate and advanced musicians. It also reflects Mr. Lipsky's more mature musical evolution, incorporating many of his focus points of the last few years: namely jazz, Latin music, tango, the folk music of various cultures, and film music.
Purchase Lipsky's Voyage à deux, volume 2 today!
Visit Helmut Lipsky's editor profile
Other links you might like:
Rodríguez' La Cumparsita (edited by Ruggiero Ricci)
As one of the most famous tangos of all times, La Cumparsita is a fantastic encore work written in the early 20th century by Uruguayan musician Gerardo Matos Rodríguez. The song was originally a Uruguayan carnival march, composed on an uncertain date between 1915-1916 for the carnival marching band to play during upcoming celebrations. When a local orchestra leader saw it he saw that it could be made into a tango. The first sheet music for the tune was published in Montevideo, Uruguay in 1916 and the following year in Buenos Aires, Argentina. Published for the first time, this virtuosic violin solo was arranged by Vicente Zito in Mendoza, Argentina and edited by Ruggierro Ricci.
Purchase Rodríguez' La Cumparsita today!
Visit Ruggiero Ricci's editor profile
Tárrega Recuerdos de la Alhambra (transcribed by Ruggiero Ricci)
Recuerdos de la Alhambra (Memories of the Alhambra) was originally written for classical guitar by Spanish composer and guitarist Francisco Tárrega. Known as the "Sarasate of the guitar," Tárrega's repertoire included many original compositions for the guitar during a time when it was still seen as very much "outside" the realm of classical instrumentation. He wrote numerous guitar arrangements of works written for other instruments by composers such as Beethoven, Chopin and Mendelssohn. Ruggierro Ricci's transcription of Alhambra remains very true to the original composition, including the famous guitar tremolo and use of left hand Pizzicati to bring out the melodic line.
Purchase Tárrega's Recuerdos de la Alhambra today!