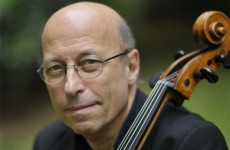 Gesang der Geister über den Wassern for 8 Celli!
Roland Pidoux, the French cellist and editor who recently joined Ovation Press back in September, has published a new arrangement. Like his previous scores, this one is arranged for cello octet.
This time around, Pidoux has chosen a relatively unknown gem for all of us: Gesang der Geister über den Wassern.
About Schubert's Gesang der Geister über den Wassern for Cello Octet
This poem was originally written by Goethe. Its choral setting by Schubert is one of the most hauntingly beautiful works, evoking some of the sounds and stylistic effects of older choral works from the Middle Ages and the Renaissance periods.
Here are the first and last passages of the poem's text, translated to English (read the full text):
"The soul of man
Is like the water:
It comes from heaven,
It returns to heaven,
And down again
To earth must go,
Ever changing.

...

Soul of man,
How like to the water!
Fate of man,
How like to the wind!"
Mr. Pidoux has translated this into a non-vocal setting by utilizing the rich melodic and harmonic textures of the cello to recreate the parallel between the imagery of water and the life / soul of man.
Purchase Schubert's Gesang der Geister über den Wassern arranged for Cello Octet today!
About the editor - Roland Pidoux
Roland Pidoux is currently a professor at the Paris Conservatory and the artistic director of Rencontres de Violoncelles de Bélaye, a post he has held since 1988. He was previously the principal cellist of the Orchestre National de France. Mr. Pidoux is also the prolific arranger of the music for cello ensemble performed by Les Violoncelles Français.
To learn more about Roland Pidoux visit his editor profile page and check out an exclusive interview on our blog String Visions.