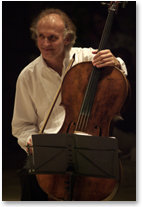 Experience Offenbach Transcribed for Cello and Guitar!
With the last month having been focused on the violin and the work of composer Helmut Lipsky, we're excited to shift the focus back to you cellists this week with a great transcription by editor Valter Dešpalj. In the past, Mr. Dešpalj has delivered some very creative arrangements that bring the cello together with guitar. Jacques Offenbach'sMusette is the latest to feature this pairing.
About the score – Musette by Jacques Offenbach
Musette is a charming little piece, full of the rhythmic and melodic characteristics of the popular music and dance style the work is named after. Typically played as a cello solo with piano accompaniment, the arrangement here demonstrates how well the parts are translated to a musical dialogue between cello and guitar.

A piece full of charming simplicity, evoking an atmosphere of olden times – this is how Offenbach's Musette could be described. It plays easy on the cello as well as on the guitar, with its simple accompaniment in the agreeable key of A minor. A listener is particularly amused by the section where the cello plays a happy tune using only natural harmonics, with the guitar providing a drum-like accompaniment.

--Valter Dešpalj
Purchase Offenbach Musette for Cello and Guitar today!
Also, check out this fantastic performance of the Musette transcription by Mr. Dešpalj and guitarist Istvan Roemer.
About the Editor – Valter Dešpalj
Valter Dešpalj is professor of cello at music academies in Zagreb and Liechtenstein. A graduate from the Juilliard School (where he studied cello under Leonard Rose and chamber music with Felix Galimir and the Juilliard Quartet), he also took master classes with P. Casals, P. Fournier and A. Navarra, and did two years of postgraduate study with G. Kozolupova at the Moscow Conservatory.
Mr. Dešpalj has performed all over the world, including performances at festivals in Gstaad, Lockenhaus, Kuhmo and Dubrovnik, also in some of the most prestigious concert halls, such as Carnegie Hall, Royal Festival Hall in London, Sydney Opera House, Amsterdam′s Concertgebouw, Moscow Conservatory Hall etc. Besides teaching in Zagreb and Liechtenstein, he has also been a guest professor at the conservatories in The Hague, Amsterdam, Copenhagen and Graz (University of Music), editor of cello music with major music publishers, and member of judging panels at the most prestigious international competitions including Tchaikovsky (Moscow), Bach (Leipzig), Lutoslawski (Warsaw) and ARD (Munich) competitions.