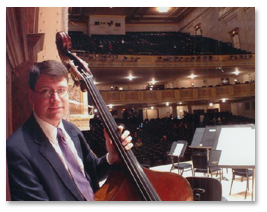 Anthony Stoops and a New Paganini Score
Leading bass performer and pedagogue Anthony Stoops has published yet another virtuoso solo work perfect for use in competitions and festivals.
As one of the top bassists in the field, Stoops' former and current students have placed in prominent music competitions and landed positions at leading music schools throughout the country. His edited works are fantastic examples of what can be made possible on the bass, and they are very effective both as pedagogical exercises and as performance pieces.
About Paganini's Caprice No. 14 for Bass Solo
Like my transcription of Paganini's Caprice No. 9, this one is also inspired by Yo-Yo Ma's recording of Paganini and Kreisler transcriptions. I have changed the key to make it approachable by the double bassist and I have simplified the triple and quadruple stops down to mostly double stops. The technical challenges are many: double stops, lower thumb position work, double stops across strings and numerous "finger twister" passages. As always, slow and methodical practice will pay off on this one!

--Anthony Stoops
Purchase Paganini's Caprice No. 14 transcribed for Bass Solo today!
About the editor - Anthony Stoops
Anthony Stoops is Artist & Teacher of Bass and String Area Chair at the University of Oklahoma School of Music. Since winning first prize in the International Society of Bassists international solo competition, he has performed throughout the United States and internationally as a soloist and chamber musician. Dr. Stoops has presented masterclasses in Poland, Brazil and throughout the U.S. at venues such as the Cleveland Institute of Music, the University of Michigan, the University of Iowa, Interlochen Arts Academy, Penn State University, and many others.
The past recipient of a Karr Foundation Doublebass, Stoops is widely regarded as one of the top bass soloists in the world today. As an orchestral musician, Stoops has performed regularly in over a dozen orchestras including the Detroit, Columbus (OH) and Toledo Symphony orchestras, and the Michigan Opera Theater among many others, under many of the world's great conductors such as Sir Georg Solti, Neeme Järvi, Daniel Barenboim, Zubin Mehta, Pierre Boulez and Charles Dutoit.
Dr. Stoops also maintains a website at www.anthonystoops.com.