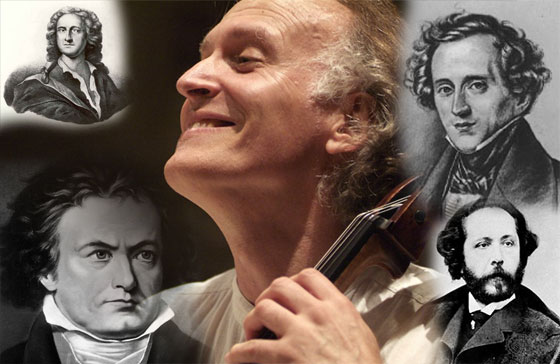 A Journey Through the Musical Ages with the Cello
In the latest release from acclaimed cello editor, pedagogue, and performer Valter Dešpalj we have a series of four scores spanning a range of musical styles from the Baroque to the post-Romantic. Starting with Georg Philipp Telemann, these new scores for cello ensemble display a breadth of musical wisdom that showcases Mr. Dešpalj's knowledge of the various stylistic movements in music history, as well as his mastery at arranging for the cello.
Valter Dešpalj has arranged the following scores:
Georg Philipp Telemann – Sonata in D minor (Cello Trio)
Ludwig van Beethoven – Sonata Op. 6 (Cello Trio)
Felix Mendelssohn – Andante religioso (Cello Quartet)
Edouard Lalo – Intermezzo from the Cello Concerto (Cello Octet)
About Telemann's Sonata in D minor arranged for Cello Trio
We begin here with the Baroque and Telemann's D minor sonata. This trio sonata is one of many that Telemann wrote for different combinations of instruments, making it a fitting work to be arranged yet again. Indeed, this sonata seems to be especially well suited for the sonority of a cello trio.
Purchase Telemann Sonata in D minor for Cello Trio today!
About Beethoven's Sonata Op. 6 arranged for Cello Trio
Moving into the Classical-proper era, we come upon a rarely-heard jewel in Beethoven's chest of musical treasures. This work is originally scored for piano 4-hands, itself a less-frequently heard arrangement. The original texture of this Sonata consists of three essential parts, with many octave doublings typical of four hand piano writing. Therefore, the transcription for cello trio called only for modifications which would make things more cellistic, without touching the essence.
Purchase Beethoven Sonata Op. 6 for Cello Trio today!
About Mendelssohn's Andante religioso arranged for Cello Quartet
Our next stop is the early Romantic era and Felix Mendelssohn. Although well-known for several of his symphonic works, his Violin Concerto, String Octet, and piano concertos, Mendelssohn was a master organist. His repertoire holds a certain pedagogical importance for organists that is not quite matched in any other instrumental field. That's what makes Andante religioso (from Organ Sonata in B-flat major Op. 65, no. 4) the perfect work to represent Mendelssohn on the cello quartet!
Purchase Mendelssohn Andante religioso for Cello Quartet today!
About Lalo's Intermezzo from the Cello Concerto arranged for Cello Octet
We conclude our journey through the musical ages in the mid-to-late 18th-century with Edouardo Lalo. In this transcription of the Intermezzo from Edouard Lalo's Cello Concerto in D minor, the first cello assumes the part of the soloist. The others play accompanying parts which are more or less in the original register. The simple texture of Lalo's score makes it very suitable for such an adaptation.
Purchase Lalo Intermezzo from the Cello Concerto for Cello Octet today!
About the Editor – Valter Dešpalj
Valter Dešpalj is professor of cello at music academies in Zagreb and Liechtenstein. A graduate from the Juilliard School (where he studied cello under Leonard Rose and chamber music with Felix Galimir and the Juilliard Quartet), he also took master classes with P. Casals, P. Fournier and A. Navarra, and did two years of postgraduate study with G. Kozolupova at the Moscow Conservatory.
Mr. Dešpalj has performed all over the world, including performances at festivals in Gstaad, Lockenhaus, Kuhmo and Dubrovnik, also in some of the most prestigious concert halls, such as Carnegie Hall, Royal Festival Hall in London, Sydney Opera House, Amsterdam′s Concertgebouw, Moscow Conservatory Hall etc. Besides teaching in Zagreb and Liechtenstein, he has also been a guest professor at the conservatories in The Hague, Amsterdam, Copenhagen and Graz (University of Music), editor of cello music with major music publishers, and member of judging panels at the most prestigious international competitions including Tchaikovsky (Moscow), Bach (Leipzig), Lutoslawski (Warsaw) and ARD (Munich) competitions.