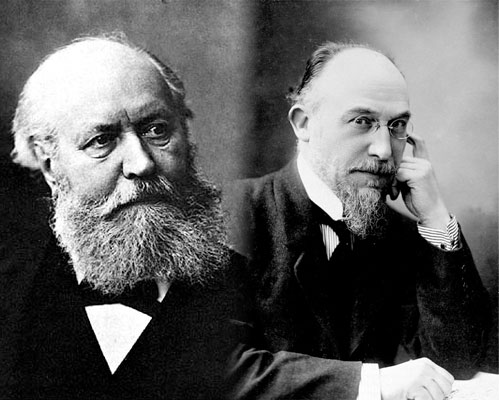 New Arrangements of Gounod's Marche Marionnette for Cello Quartet and Satie's Aubade for Cello Duo!
Charles Jacot continues to bring us more incredible scores for the cello! He has arranged two short piano works from two distinctly different composers. Gounod's Funeral March of a Marionnette has come to the cello quartet, while Satie's Aubade from Avant-dernières pensées is now set for cello duo (adding to Jacot's previous arrangement for cello quartet).
These new works showcase the translation of piano works from two vastly different musical eras to the string medium of the cello. Learn more about these scores:
About Gounod's Marche Funèbre d'une Marionnette (for Cello Quartet)
Charles Gounod's Marche Funèbre d'une Marionnette (Funeral March of a Marionette) is originally a piano piece. It's well-known to many people, as it was used as the theme music to the Alfred Hitchcock Hour. It has a wonderful macabre, yet playful atmosphere. The piece works very well for cello quartet. Due to the grotesque mood of the music the general range is low, and the lilting, staccato nature of the piece suits the cello admirably.
Purchase Gounod's Marche Funèbre d'une Marionnette Arranged for Cello Quartet today!
About Satie's Avant-Dernières Pensées - Aubade (for Cello Duo)
The Aubade is the second piece in a set entitled Avant-dernières pensées (Penultimate Thoughts), written in 1915. This work is a great representation of Satie's music, often characterized by ethereal, wistful, graceful melodies yet also contrasting with humor, liveliness and satire.
Satie's music tends to be sparse or transparent in texture, the pieces short, often featuring a rhythmic ostinato throughout. He employed old modes and unusual scales, unconventional harmonies and harmonic direction, and root chords and planing, all of which can be heard in the music of Debussy.
Purchase Satie's Avant-Dernières Pensées - Aubade Arranged for Cello Duo today!
You also check out Jacot's previously released version of Satie's Avant-Dernières Pensées - Aubade Arranged for Cello Quartet
About the Editor – Charles Jacot
Charles Jacot currently resides in Seattle, where he is a member of the Pacific Northwest Ballet Orchestra and a frequent sub for both the Seattle Opera and Seattle Symphony, with whom he has participated in several recordings in the past decade.
Originally from the Chicago suburb of Downers Grove, Charles studied there with Chicago Symphony members Alois Trnka and CSO Principal, Frank Miller. He found a passion for playing orchestral music there, hearing many CSO performances during the Solti years and playing several seasons in the Chicago Civic Orchestra. After meeting Hans Jorgen Jensen at the A.F. of M's Congress of Strings summer program, Charles went to study with him at the University of Houston, earning a Bachelor of Music degree and graduating summa cum laude. Charles later earned his Masters degree at the Juilliard School where he studied with Harvey Shapiro.