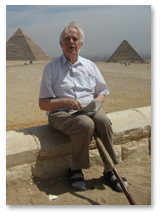 Hans Erik Deckert Debuts at Ovation Press with an Original Composition and a Gabrieli Arrangement
Furthering our cause to bring more available scores to the wonderful instrumentation that is the cello ensemble, cellist and new Ovation Press editor Hans Erik Deckert has just published two exciting Canzoni for celli. Like many of our editors, Mr. Deckert has an affinity and a knack for chamber music – especially when it comes to all-cello groups – transforming a 22-voice Gabrieli Canzone into a 22-celli arranagement! In addition, Hans Erik Deckert is a composer in his own right, and along with his Gabrieli arrangement he brings his own Canzona, written for a cello ensemble of 12.
Works for 12 and 22 celli! Can it get any better for cello lovers?
About Deckert's Canzona (for 12 Celli)
Composed by Deckert himself in 1976 and revised 1991 and 2010, this canzone consists of five sections, with the transitions between the individual sections each being denoted by a general pause. Each section contains its own unique compositional elements, but at the same time the Canzona presents motifs that recur throughout the work as a whole. For example, the hymnodical motifs of the first section (Moderato cantabile) are revisited and further developed in the fifth section. The second section (Allegro vivace) reappears in the fourth section in exact reversion. The twelve-tone theme of the second section is repeated seven times, building in intensity of ever greater complexity and climaxing in a canonical exchange between the two halves of the ensemble. Shortly before the final phrases of the canzone in the fifth section, the twelve-tone theme of the second and fourth sections returns one final time as a pizzicato episode, simultaneously as the theme and in reversion.
This is an exciting new release from an exciting new composer at Ovation Press. Learn more about and purchase Deckert's Canzona for 12 Celli today!
About Gabrieli's Canzone e Sonate 1615, arranged for 22 Celli
Giovanni Gabrieli wrote countless Canzones in connection with his work as music director and principal composer at Saint Mark's Basilica in Venice. Like composers before and after him, he would use the unusual layout of Saint Mark's church, with its two choir lofts facing each other, to create striking spatial effects. Most of his pieces are written so that a choir or instrumental group will first be heard on one side, followed by a response from the musicians on the other side; often there was a third group situated on a stage near the main altar in the center of the church. Gabrieli utilized this as a tool for a dialogue between the different choirs and not least as a tutti effect where the music, so to speak, reached the listener from all sides.
Canzone e Sonate 1615 is written for 22 voices, divided into five choirs: the first chorus is 6 voices, and the other four are 4 voices each. The range of pitches of the 22 celli match the original. It is recommended to play the work with a separate placement of the five choirs but in such a way that the balance of the whole ensemble is not restricted.
Purchase Gabrieli's Canzone e Sonate 1615, arranged for 22 Celli today!
About the Editor – Hans Erik Deckert
Hans Erik Deckert grew up in Germany and moved to Denmark shortly after the war in order to study cello and conducting in Copenhagen. His career in these fields, and more generally as a passionate animator in the field of chamber music, has developed from posts held at academies in Germany, Denmark and Sweden to his present freelance activity throughout Europe. Hans Erik Deckert's roots in the German musical tradition have given him a depth of musicianship much in demand at solo and chamber masterclasses and seminars, which is mixed with a concern for the wider social responsibility of music, stemming from his Scandinavian environment.
Presently, Hans Erik Deckert is Honorary President of the Danish section of ESTA (which he also founded in 1978), resident conductor with the Cello Academy (which embraces a professional 12-part cello ensemble as well as regular training courses for students), and holds visiting posts at the Freie Musikschule in Hamburg and the Institute for Music Therapy at Witten-Herdecke University in Germany.
Learn more about editor Hans Erik Deckert on Ovation Press. In addition, check out an exclusive article written by Mr. Deckert himself: the Seven Stages of Practicing, published on our blog String Visions!