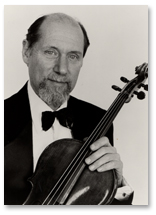 Michael Tree and Ovation Press Publish Schumann's Fünf Stücke im Volkston (Five Pieces in Popular Style)
Ovation Press is excited to welcome world-famous violist and founding member of the Guarneri String Quartet Michael Tree to its already outstanding roster of viola editors. In Mr. Tree's first release he shines a light into Robert Schumann's more obscure compositional period with Fünf Stücke im Volkston (Five Pieces in Popular Style). Originally written for cello, this work is a rarity among Schumann's more famous and established compositions. Thanks to Mr. Tree, we now have an outstanding arrangement of this hidden jewel for viola and piano.
In addition to his involvement in the Guarneri String Quartet, Mr. Tree also co-founded the Schumann Trio in 2008 alongisde clarinetist Anthony McGill, and pianist Anna Polonsky. These three musicians explore the rich, and somewhat under-represented, repertoire for clarinet, piano, and viola or violin. As an under-represented work in Schumann's repertoire, it is perhaps fitting that Fünf Stücke im Volkston marks Michael Tree's first arrangement with Ovation Press.
About Schumann's Fünf Stücke im Volkston Arranged for Viola and Piano
Schumann wrote Fünf Stücke im Volkston (5 Pieces in Popular Style) around 1849-1850, at the start of the latest phase of his compositional career. The original work consists of five short pieces for cello and piano in the form of songs without words. Some believe that the first of the five pieces was inspired by Goethe's poem "Vanitas! Vanitatum Vanitas!" because of the similar name and the fact that it rhythmically follows the meter of Goethe's poem. However, this is unconfirmed as no lyric is printed in the score or in the parts. The other individual pieces have no specific names, but rather are distinguished by tempo markings:
Vanitas vanitatum: Mit Humor (Vanity of Vanities: With Humor)
Langsam (Slow)
Nicht schnell, mit viel Ton zu spielen (Not quick, to be played with much feeling)
Nicht zu rasch (Not too quickly)
Stark und markirt (Strong and emphatic)
Michael Tree has brought Schumann's work from the cello to the viola, remarking on his hope that "this unique, seldom heard work will earn a permanent place in the viola repertoire."
Purchase Schumann's Fünf Stücke im Volkston for Viola and Piano today!
About the Editor – Michael Tree
Michael Tree was born in Newark, NJ. He studied violin with his father, and his principal teacher was Efrem Zimbalist at The Curtis Institute of Music in Philadelphia. Following his Carnegie Hall recital debut, he appeared as soloist on both the violin and viola with major orchestras, including the Philadelphia Orchestra, the Los Angeles Philharmonic and the Baltimore and New Jersey Symphonies.

Mr. Tree is a major supporter and ambassador of chamber music, as evidenced by his founding roles in both the Guaneri String Quartet and Schumann Trio. Other artists with whom he has recorded include Emanuel Ax, Richard Goode, Jaime Laredo, Yo-Yo Ma, Sharon Robinson, Rudolf Serkin, Isaac Stern and Pinchas Zuckerman.

You can learn more about editor Michael Tree by visiting his Ovation Press editor profile. In addition, Ovation Press co-founder Hans Jensen conducted an extensive interview with Mr. Tree in June 2011 which was published on our blog String Visions. In it he shares his early memories of musical study, ideas about sound production, his professional experience, involvement with chamber and recording projects, and concepts about practicing. This 3-part interview is a treasure trove of wisdom from someone who has experienced many sides of being a professional musician.

Check out our interview with Michael Tree on String Visions!