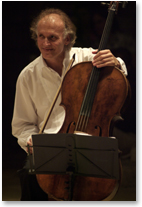 Valter Dešpalj Publishes New Transcriptions for Cello and Ensemble
Acclaimed cellist, performer, pedagogue, and Ovation Press editor Valter Dešpalj continues to bring us exciting new transcriptions featuring the cello. Last time around, he released expertly-arranged solo scores for Popper's Polonaise de Concert and the cadenzas from Haydn's Cello Concertos 1-2. Now, Mr. Dešpalj is showing off his skill in arrangements for ensemble, with transcriptions of Ruggiero Leoncavallo's Serenade and Johann Strauss Sr.'s Jellacic March.
The ensemble has always played an active role in Valter Dešpalj's teaching, particularly the cello(-only) ensemble. He formed a cello ensemble project with his students over 20 years ago and once spoke to us about the importance of this project:
At the beginning, my aim was mainly pedagogic: I believe that students can hear more acutely some of their weaknesses, especially in intonation, when playing in such an ensemble than in a mixed string group. The project compelled me to start regularly writing arrangements for different cello formations.
In addition to his love of the cello choir, Mr. Dešpalj's has demonstrated refined skill in translating accompaniment parts to the guitar, creating a striking contrast to the cello. Learn more about his newest additions to Ovation Press.
About Leoncavallo's Serenade Transcribed for Cello and Guitar
This Serenade by Leoncavallo was written originally for cello with piano or harp accompaniment. Its sentimental melody, with air of ''good old days'', is the essence of Italian vocal expression - listening to it one almost hears the words. It is beautiful in its simplicity and penetrates so well the soul of cello that one wonders why it did not gain more popularity with cellists.
Purchase Leoncavallo's Serenade for Cello and Guitar today!
About Strauss Jellacic March Transcribed for Cello Quartet
Johann Strauss, Sr. the founder of Strauss dynasty, gained fame with his numerous waltzes, but also wrote several marches (Radetzky March being the most popular). The Jellacic March, dedicated to the Croatian governor Josip Jellacic, is typical of Strauss - light and entertaining. It can be even more effective if performed with a larger ensemble, in which case the double stops could be played divisi.
Purchase Strauss' Jellacic March for Cello Quartet today!
About the Editor – Valter Dešpalj
Valter Dešpalj is professor of cello at music academies in Zagreb and Liechtenstein. A graduate from the Juilliard School (where he studied cello under Leonard Rose and chamber music with Felix Galimir and Juilliard Quartet), he also took master classes with P. Casals, P. Fournier and A. Navarra, and did two years of postgraduate study with G. Kozolupova at the Moscow Conservatory.
Mr. Dešpalj has performed all over the world, including performances at festivals in Gstaad, Lockenhaus, Kuhmo and Dubrovnik, also in some of the most prestigious concert halls, such as Carnegie Hall, Royal Festival Hall in London, Sydney Opera House, Amsterdam′s Concertgebouw, Moscow Conservatory Hall etc. Besides teaching in Zagreb and Liechtenstein, he has also been a guest professor at the conservatories in The Hague, Amsterdam, Copenhagen and Graz (University of Music), editor of cello music with major music publishers, and member of judging panels at the most prestigious international competitions including Tchaikovsky (Moscow), Bach (Leipzig), Lutoslawski (Warsaw) and ARD (Munich) competitions.