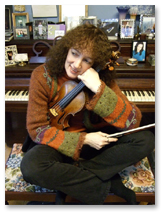 Ovation Press Publishes Celebration Suite and Suite Celtica by Amy Barlowe
Amy Barlowe, the dynamic composer and Ovation Press editor who brought us the internationally-acclaimed 12 Etude-Caprices in the Styles of Great Composers has recently released two suites for string orchestra. The first – Celebration Suite – is for string orchestra, percussion and sopranos while the second – Suite Celtica – is for string orchestra. Written for intermediate-level musicians (i.e. a middle school orchestra), each suite would be a lively and vibrant addition to any concert program. These are significant additions to the Ovation Press catalog of music from a composer who has received rave reviews from musicians all over the world, including faculty at leading musical institutions such as the Juilliard School, the Cleveland Institute of Music, and the Boston Conservatory.
About Celebration Suite for String Orchestra, Percussion and Sopranos
Commemorate a special occasion with the Celebration Suite. Written for middle school orchestra and sopranos, this suite's two joyful outer movements surround a tender, songful "Tribute". Also, perfect for graduation ceremonies, the uplifting text will provide students and audiences with a joyous experience to be remembered by all.
The Celebration Suite consists of three movements: "Fanfare" (for strings and timpani), "Tribute" (for strings, soprano and harp) and "Celebration Waltz" (for strings, three sopranos, harp, piano and chimes).
Purchase Celebration Suite for String Orchestra, Percussion, and Sopranos today!
About Suite Celtica for String Orchestra
Inspired by the folk music of Ireland, a robust nautical theme juxtaposed with an energetic variant of a favorite sea shanty opens this lively suite. The middle movement, an air, reveals the poignance and nostalgia intrinsic to music of the Emerald Isle. Concluding with a vibrant dance accompanied by genuine or simulated bodhran (Irish drum), this suite is always an audience favorite!
Purchase Suite Celtica for String Orchestra today!
About the Editor – Amy Barlowe
Amy Barlowe, violinist and composer, received her B.M. and M.M. degrees from the Juilliard School after studies with Ivan Galamian and Margaret Pardee. Her chamber music coaches include Josef Gingold, Felix Galimir, Samuel Rhodes and Earl Carlyss.
She is the recipient of numerous awards including the Helena Rubinstein Scholarship, Atkinson and Northwest Area grants. Her critically acclaimed solo recitals and chamber music performances have taken her throughout the United States, Canada, and Mexico, as well as to the major concert halls of New York City. Josef Gingold praised her for "...fine musicianship, excellent instrumental qualities, and a devotion to all things musical." Ms. Barlowe has been featured on PM Magazine, performed as guest artist on numerous radio stations, and toured extensively throughout the Northwest as violinist of the Oregon Trio.
Ms. Barlowe's original compositions and arrangements include works for two violins and piano, an opera ballet, and a Requiem Mass. Her two Celtic duos for two violas appear on a CD recorded by the Aureole Trio and have been released on the Koch International label. Recently, Ms. Barlowe's arrangement of "Schindler's List" for two violins piano received the endorsement of John Williams and has been published by Hal Leonard for two violins or violin and viola with orchestra, as well as for the same combinations with piano. Ms. Barlowe's "12 Etude-Caprices in the Styles of the Great Composers", newly published by Alfred Publishing, is receiving accolades worldwide.