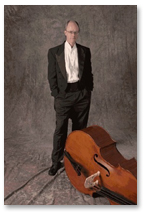 Ed Barker Adds His Mark Alongside Strauss and Nietzsche with Also sprach Zarathustra
The Ovation Press catalog has been home to a bass arrangement (as well as cello version) of Richard Strauss' Also sprach Zarathustra for some time now. Paul Ellison's rendition of Strauss' famous work is now joined by a new edition from highly-recognized and regarded bassist Edwin Barker.
About the Score – Also sprach Zarathustra (Thus spoke Zarathustra)
The Boston Symphony Orchestra performed this work in early January. Perhaps motivated by the performance, Mr. Barker began to "tinker" with the score, making bowing changes and adding his own personal interpretation to the passages of Zarathustra.
The inspiration for Strauss' original composition comes from the philosophical work of the same name by German philosopher Friedrich Nietzsche. Nietzsche's work introduced many of his most famous concepts such as the Übermensch ("Overman"), eternal recurrence (of time), and the "death of God." The presence of the "world riddle" theme (meaning of life) in the Strauss score has been hotly debated as to what precise musical phrase embodies the concept.
Edwin Barker's edition of Also sprach Zarathustra adds a new dimension to the score, as he weaves his musical approach into the compositional and philosophical styles of Richard Strauss and Friedrich Nietzsche. If you have purchased a copy of Paul Ellison's edition in the past, we are very interested to hear your feedback on how these two scores compare. If you haven't, take a look at both editions today:
About the Editor – Edwin Barker
Double bassist Edwin Barker is recognized as one of the most gifted bassists on the American concert scene. Acknowledged as an accomplished solo and ensemble player, Mr. Barker has performed in concerts in North America, Europe, and the Far East.
Edwin Barker has performed and recorded with the Boston Symphony Orchestra, the Boston Symphony Chamber Players and with Collage, a Boston-based contemporary music ensemble. He is also a frequent guest performer with the Boston Chamber Music Society in Boston's Jordan Hall. Edwin Barker performed the world premiere of James Yannatos' Bass Concerto (which was written especially for him) with Alea III and subsequently with Collage. He was the featured soloist at the New England premiere of Gunther Schuller's Bass Concerto, conducted by the composer, with the Boston Pro Arte Chamber Orchestra. Mr. Barker's major teaching affiliations include the Tanglewood Music Center, Boston University and the New England Conservatory of Music.
Mr. Barker graduated with honors from the New England Conservatory in 1976 where he studied double bass with Henry Portnoi. That same year, while a member of the Chicago Symphony, he was appointed at age twenty-two to the position of principal bassist of the Boston Symphony Orchestra. Mr. Barker continues to tour and perform internationally with the Boston Symphony Orchestra and the Boston Symphony Chamber Players.
Learn more about Edwin Barker and see his complete of scores published at Ovation Press by visiting his editor profile.