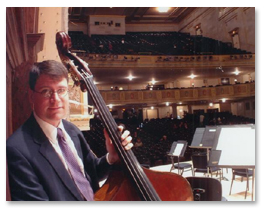 Anthony Stoops and Ovation Press Publish Two New Scores
We are excited to release two new scores from leading bass performer and pedagogue Anthony Stoops. Mr. Stoops has published two virtuoso works for solo bass that are perfect for use in competitions. Basso Capriccioso, an original composition, was written during a recording session for his first CD Bass Fiddle:
...Bass Fiddle was a duo album that I recorded with my friend Andy Carlson featuring music for violin and bass in a variety of styles: classical, bluegrass and jazz. Compositionally, Basso Capriccioso is kind of an "Eduard Nanny goes country with his 'uptown' boots" kind of thing and as such is a tribute to two of my favorite bass players: Gary Karr and Edgar Meyer. The main technical challenge of the work is the large number of string crossings throughout.

-Anthony Stoops
Purchase your own copy of
Basso Capriccioso
. In addition, check out Mr. Anthony Stoops' transcription of
Paganini's Caprice No. 9 for bass
:
I transcribed Paganini's Caprice No. 9 to play for the 1995 International Society of Bassists Solo Competition because I needed a virtuoso work to round out my program. I was inspired to see if I could play Paganini on the bass after listening to Yo-Yo Ma's recording of Kreisler and Paganini's works transcribed for cello...

-Anthony Stoops
About Anthony Stoops
Dr. Stoops has an impressive reputation as both a performer and instructor. As a performer, he has won first prize in the International Society of Bassists international solo competition and was a recipient of a Karr Foundation Doublebass.
Dr. Stoops currently serves as the Co-Principal Bass of the Oklahoma City Philharmonic and has filled key roles in over a dozen other orchestras in the United States. He has also collaborated with some of the foremost musical minds in conducting including Sir Georg Solti, Daniel Barenboim, Pierre Boulez, and Charles Dutoit. As a pedagogue, Dr. Stoops is currently Artist/Teacher of Double Bass and String Area Chair at the University of Oklahoma School of Music. His current and former students have placed in prominent music competitions and landed positions at leading music schools throughout the country.
To learn more about Anthony Stoops view his editor profile, and be sure to visit his own website as well!