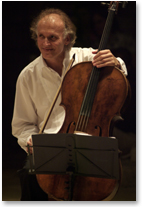 Valter Dešpalj – Popper Polonaise de Concert for Cello Ensemble and Cadenzas from Haydn Cello Concertos
Hi everyone! We have a special treat for all you cellists! Exciting new sheet music for editor Valter Dešpalj's arrangement of David Popper's Polonaise de Concert is available for purchase! We have a fantastic video performance of this work by Dešpalj's own students:
Valter Dešpalj (pronounced Despali) is a brilliant musician and editor, and this arrangement and above performance showcases his outstanding ability as a teacher. Co-founder Hans Jensen, who plays a major role in reviewing and commissioning new arrangements for Ovation Press, had this to say about Mr. Dešpalj's work:
Valter has an uncanny ability in his arrangements to bring out the best of the cello. His control of voicing, colors and textures in his arrangements is the peak of what you will find on the instrument. There is tremendous excitement in this performance. Technically, the control and overall playing is absolutely first-rate. But hands down the best part is watching the joy these performers exhibit while they play. It's simply contagious. When listening to it, I feel compelled to pull out my cello and join in with this incredible ensemble. There are very few arrangers for cello and cello ensembles in the world as good as Valter Dešpalj. This arrangement should be performed and heard by people all around the world.

-Hans Jensen
In addition, Mr. Dešpalj recently released cadenzas for both Haydn Cello Concertos! Mr. Despalj's cadenzas will challenge you technically and reward you with an entirely original approach to these staples of the repertoire.
About David Popper's Polonaise de Concert Arranged for Cello Ensemble:
Popper's Polonaise de Concert has always been a favorite of young cello students eager to display their passion and virtuosity. Here is an arrangement for cello octet, with the solo part shared by several players who, as it were, depict several characters in a lively exchange, sometimes in dialogue, sometimes competing but always having lots of fun. In the accompanying parts, I often suggest the use of the D string rather than the A, mainly to make more room for the soloist playing sul A but also sometimes to keep the fingers in a position that helps ensure good intonation.

-Valter Dešpalj
Valter Dešpalj has written two cadenzas for both of Haydn's cello concertos. The C-Major No. 1 is generally thought of as an idiomatic work for the cello, reflecting a blend of the baroque concerto and classical sonata-allegro forms. The D-Major No. 2 is considered a technically more difficult work for the soloist, though it possesses a more relaxed and lyrical tone.
In both works, Valter Dešpalj's formidable skills as an editor shine through, incorporating the original musical ideas of Haydn with much-needed variety and freshness. The cadenzas showcase both Haydn as a master of instrumental writing and Dešpalj as a master of the cello.
To learn more about Valter Dešpalj and his works, check out the complete list of his arrangements on Ovation Press. Also, we encourage you to read our interview with him on String Visions to learn about the man behind the music.