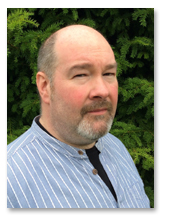 Steven Griffin
Steven Griffin is a Welsh composer and teacher who lives and works in Edinburgh, Scotland. He studied Music at Magdalen College, Oxford where he was awarded an Academical Clerkship, the Magdalen equivalent of a choral scholarship.
Steven's career as a musician is centred on education and he is the Assistant Director of Music at George Watson's College in Edinburgh. His first compositions were for his choir of 11 to 13 year olds for whom he found it difficult to find music that was challenging yet accessible. Since then he has composed a wide variety of choral, chamber and orchestral pieces.
His recent instrumental works have been for multi-level ensembles allowing beginners to perform with more experienced performers. For example, Blues on the G String has parts for cellists from absolute beginners to ABRSM grade 8, while Pass the Baton accommodates orchestral string players from beginners to ABRSM grade 5.
In 2012, Steven was the winner of the inaugural Carol for Christmas Competition organised by renowned vocal ensemble The King's Singers and Classic FM. His winning entry, A Hymn to the Virgin, was first performed by The King's Singers and subsequently published by Novello.
Following this success, Steven's compositions and arrangements have been programmed throughout the world with recent performances in Italy, Japan, New Zealand and the USA.
Steven's music has been described as "alluring contemporary sounds" by The Scotsman newspaper and "quite superb" by the International Choral Bulletin.
You can follow Steven on Twitter @mrgriffmusic
Below you will find the complete list of scores edited by Steven Griffin for Ovation Press.
Loading Product Listings…