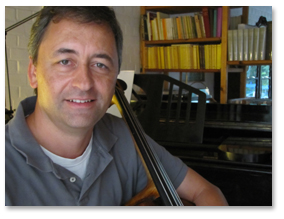 Carsten Jaspert
Carsten Jaspert was born in 1966 in Hüls, Germany. He studied celo with Jürgen Wolf in Düsseldorf and Rudolf von Tobel in Bern. Mr. Jaspert has participated in several notable festivals including the Tanglewood Young Artists Instrumental Program in 1984 and the Schleswig Holstein Musik Festival Orchester with Sergiu Celibidache in 1988. From 1987-1988 he was Principal Cellist of the Folkwang Kammerorchester in Essen. Since 1989 he has been a member of the cello section of the NDR Radiophilharmonie in Hannover.
Outside of his orchestral career Mr. Jaspert was a member of and arranger for the Cello Quartet "Die Rheinischen Cellisten" from 1998 – 2000. In 2000 the cello section of the NDR Radiophilharmonie founded the Cello Octet "Celli Family" for which Mr. Jaspert regularly writes arrangements. Since 2005 he has been the cellist in the Helian Quartett.
As a teacher Mr. Jaspert regularly coaches the Niedersächsische Jugend Orchester.

Below you will find the complete list of scores edited by Carsten Jaspert.

Loading Product Listings…