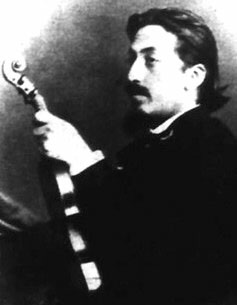 Henryk Wieniawski
Henryk Wieniawski was a Polish violinist and composer.
Wieniawski was one of the greatest violinists of the Romantic era, often compared to Paganini. As a performer, he dazzled audiences with his stupendous technique, expressive phrasing, and rich tone. As a composer, he succeeded in blending brilliant virtuosity with true Romantic inspiration.
Born in Poland while the country was under foreign rule, Wieniawski was a member of a family which produced several remarkable musicians. Recognized as a prodigy, Wieniawski auditioned for the Paris Conservatoire at the age of nine. In 1846, he received first prize in violin. Two years later, Wieniawski embarked on a career as a concert violinist, performing first in Paris and then in St. Petersburg. After achieving great success in St. Petersburg, Wieniawski returned to Paris to study composition. He absorbed a significant amount of influence from the places he lived, which contributed to various stylistic periods in his compositional history.
Wieniawski was considered a genius on the violin. He produced some of the most important works in the violin repertoire, including two extremely difficult violin concertos. His L'École moderne, 10 études-caprices Op. 10 is a very well known and required work for aspiring violinists. In addition, his Scherzo-Tarantelle, Op. 16 and Légende, Op. 17 are also frequently performed works. He wrote two popular mazurkas for solo violin and piano accompaniment, using techniques such as left-hand pizzicato, harmonics, large leaps, and many double stops.
Exclusive Wieniawski Scores for Strings from Ovation Press
Loading Product Listings…