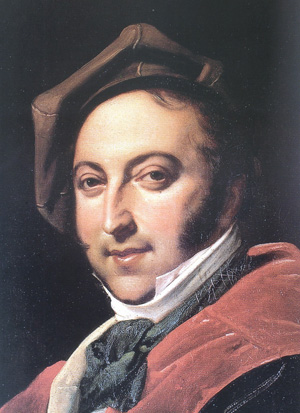 Gioachino Rossini
Gioachino Rossini was an Italian composer famous for his nearly 40 operas, as well as his body of sacred music, chamber music, songs, and some instrumental and piano pieces. His best-known operas include the Italian comedies Il barbiere di Siviglia (The Barber of Seville) and La Cenerentola and the French-language epics Moïse et Pharaon and Guillaume Tell (William Tell).
Rossini was born into a family of musicians in Pesaro, a town on the Adriatic coast of Italy which was then part of the Papal States. His father, Giuseppe, was a horn player and inspector of slaughterhouses. His mother, Anna, was a singer and a baker's daughter. Rossini's parents began his musical training early, and by the age of six he was playing the triangle in his father's musical group.
By the age of 21, Rossini had established himself as the idol of the Italian opera public. In 1815 he retired to his home in Bologna, where Domenico Barbaia, the impresario of the Naples theatre, contracted an agreement that made him musical director of the Teatro di San Carlo and the Teatro del Fondo at Naples. He would compose one opera a year for each, to which he was compensated in a very lucrative arrangement. His most famous work, the opera The Barber of Seville would premiere in February 1816.
Though not as prominent as Mozart, Rossini's music often reflected a similar character, especially his tendency for inspired, song-like melodies in his scores which at times earned him the nickname the "Italian Mozart." Some of his more famous works such as The Barber of Seville and Overture from William Tell have been arranged below for string instruments.
Exclusive Rossini Scores for Strings from Ovation Press
Loading Product Listings…