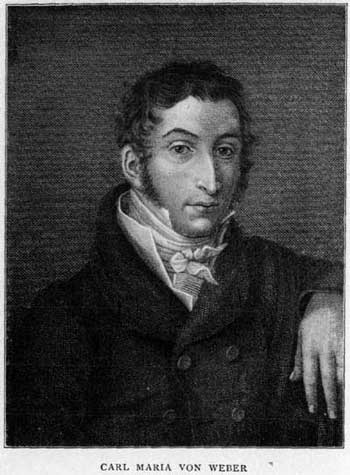 Carl Maria von Weber
Carl Maria von Weber was a German composer, conductor, pianist, guitarist and critic, one of the first significant composers of the Romantic school.
A brilliant pianist himself, Weber composed four sonatas, two concertos and the Konzertstück (Concert Piece) in F minor, which influenced composers such as Chopin, Liszt and Mendelssohn. The Konzertstück provided a new model for the one-movement concerto in several contrasting sections (such as Liszt's, who often played the work), and was acknowledged by Stravinsky as the model for his Capriccio for Piano and Orchestra. Weber's shorter piano pieces, such as the Invitation to the Dance, was later orchestrated by Berlioz, while his Polacca Brillante was later orchestrated by Liszt.
In addition to his work with the piano, Weber also had a major influence on the woodwind repertoire. His compositions for the clarinet, which include two concertos, a concertino, a quintet and a duo concertante, are regularly performed today. His Concertino for Horn and Orchestra requires the performer to simultaneously produce two notes by humming while playing—a technique known as multiphonics. His Bassoon Concerto and the Andante e Rondo ungarese (a reworking of a piece originally for viola and orchestra) are also popular with bassoonists.
Weber's orchestration has also been highly praised and emulated by later generations of composers - Berlioz referred to him several times in his Treatise on Instrumentation while Debussy remarked that the sound of the Weber orchestra was obtained through the scrutiny of the soul of each instrument.
Exclusive Weber Scores for Strings from Ovation Press
Loading Product Listings…