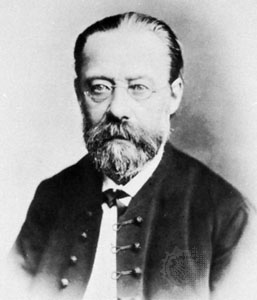 Bedřich Smetana
Bedřich Smetana was a Czech pianist and composer. He pioneered the development of a musical style which became closely identified with his country's aspirations to independent statehood and is thus widely regarded in his homeland as the father of Czech music.
Smetana was a gifted pianist, giving his first public performance at the age of six. After his conventional schooling, he studied music under Josef Proksch in Prague. His first nationalistic music was written during the 1848 Prague uprising, in which he briefly participated. After failing to establish his career in Prague, he left for Sweden, where he set up as a teacher and choirmaster in Gothenburg, and began to write large-scale orchestral works.
Later in his life, he would return to Prague and champion a new genre of Czech opera. His first two operas premiered in 1866: The Brandenburgers in Bohemia and The Bartered Bride, which would become one the works he is best known for internationally. Smetana became the theatre's principal conductor that year. However, his musical reign would be tainted by the socio-political climate against which his musical ideas were placed. Various factions within Prague's established musical society viewed his identification with the progressive ideas of Franz Liszt and Richard Wagner as anathema to the development of a distinctively Czech opera style. Such opposition interfered with his creative work, Smetana resigned from the theatre in 1874.
Along with The Bartered Bride, of which several variations of the Overture have been arranged here at Ovation Press, Smetana is also well known for his First String Quartet From My Life and his symphonic cycle Má vlast ("My Fatherland"), a composition which illustrates the history, legends and landscape of the composer's native land.
Exclusive Smetana Scores for Strings from Ovation Press
Loading Product Listings…