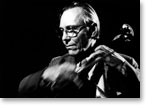 Orlando Cole
Orlando Cole (1908-2010) helped produce a generation of cellists which include Lynn Harrell, David Cole, Ronald Leonard, Daniel Lee, Lorne Munroe, Marcie Rosen, as well as the first cellists in a dozen leading orchestras. In 1927 he was a founding member of the Curtis String Quartet with whom he performed extensively throughout America and Europe for 50 years. He also held master-classes in the United States, Europe and the Far East.
Mr. Cole was a faculty member of Curtis since graduating from the class of Felix Salmond in 1934. In 1986 he received an honorary "Doctor of Music" from Curtis, and in 1990 was honored by the American String Teacher's Association as "Teacher of the Year."
Mr. Cole was also honored by the Philadelphia Art alliance, and the venerable Musical Fund Society of Philadelphia. In 1999 he was given the first award by the Curtis alumni.
The Internet Cello Society conducted a wide-ranging
interview with Orlando Cole
in 2002 in which he discusses his teachers, views on technique, work with Samuel Barber and many other subjects.
Below you will find the complete list of scores edited by Orlando Cole.
Loading Product Listings…