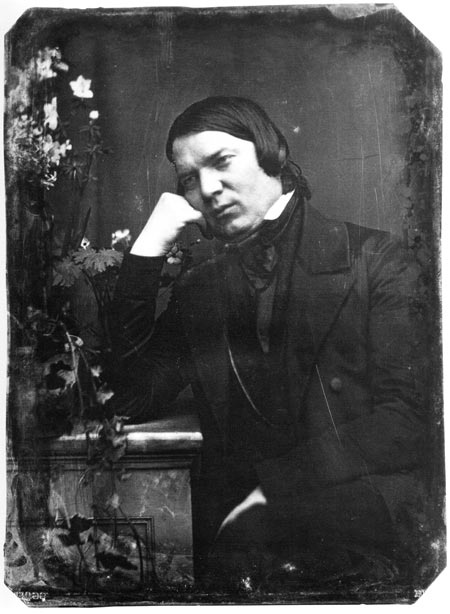 Robert Schumann
Robert Schumann was an influential German composer and music critic, often considered one of the greatest and most representative composers of the Romantic era.
Originally pursuing law, Schumann left his career path in order to return to music, intending on a career as a virtuoso pianist. After a hand injury ended this dream, Schumann focused his energies on composing. Schumann's published compositions were written exclusively for the piano until 1840; he later composed works for piano and orchestra; many Lieder (songs for voice and piano); four symphonies; an opera; and other orchestral, choral, and chamber works.
Schumann was married to pianist Clara Wieck, who also composed music and had a considerable concert career.
Schumann's piano music, which represent a large portion of his works, offers a wealth of material. He wrote a number of pieces for his wife and children (particuarly later on). From the earlier period comes Carnaval — a series of short musical scenes with motifs derived from the letters of the town of Asch, home of a fellow student of his teacher – and the Davidsbündlertänze ('Dances of the League of David'), a reference to the imaginary league of friends of art against the surrounding Philistines. Later he would integrate the piano with his chamber works, producing the famous Piano Quartet and Piano Quintet.
In addition, he completed four symphonies, a piano concerto, and a cello concerto during his lifetime. His 1853 Violin Concerto was also produced though not premiered until 1937, well after his death. His only completed opera, Genoveva, was unsuccessful in the theatre but its overture holds a place in concert-hall repertoire.
Schumann had considerable influence in the nineteenth century and beyond, despite his adoption of more conservative modes of composition after his marriage. He left an array of acclaimed music in virtually all the forms then known. Partly through his protégé Brahms, Schumann's ideals and musical vocabulary became widely disseminated.
Exclusive Schumann Scores for Strings from Ovation Press
Loading Product Listings…