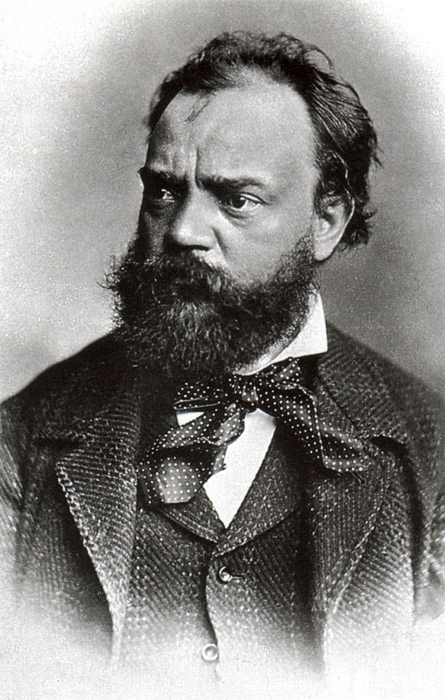 Antonín Dvořák
Antonín Dvořák was a Czech composer of late Romantic music known for employing the influences of Brahms, Wagner and folk music idioms of Moravia and his native Bohemia. Dvořák's own style is sometimes called "romantic-classicist synthesis." His works include symphonic, choral and chamber music, concerti, operas and many of other orchestral and vocal-instrumental pieces.
Starting early with voice and violin lessons, Dvořák quickly took to the violin and began playing in church and village bands. In 1853, Dvorak's parents sent him to Zlonice to continue his education in learning German as well as music. Over the next few decades, Dvořák's development would earn him many opportunities throughout Central Europe, as well as acclaim from legendary composers. In 1877, Brahms, very much impressed by Dvořák works, was on the panel of judges who awarded him 400 guldens. A letter written by Brahms about Dvořák music brought the latter much fame.
In 1892, Dvořák moved to the United States, where he served as the director of the National Conservatory of Music in New York City from 1892 to 1895. His main goal in America was to discover "American Music" and engage in it, much as he had used Czech folk idioms within his music. This culminated in arguably his most famous work: Symphony No.9, "From the New World."
Dvořák's compositions take a variety of forms: his nine symphonies stick to classical models which Ludwig van Beethoven would have recognised and are comparable to Johannes Brahms, but he also worked with the newly developed symphonic poem form. As noted, many of his works also show the influence of Czech folk music, both in terms of rhythms and melodic shapes; perhaps the best known examples are the two sets of Slavonic Dances. His output also included operas, piano music, and chamber scores.
Exclusive Dvořák Scores for Strings from Ovation Press
Loading Product Listings…